By R.V. Baugus
Does it not seem years ago that any public assembly venue saw its last live event take place? The simple truth is that it has been less than 90 days, but oh how it seems like forever.
During that very short time span we have witnessed the bottoming of the economy, rampant job loss, full-blown death numbers from the COVID-19 coronavirus, and, most recently and sadly, the death of an unarmed African American male by a white police officer in Minneapolis that has drawn protests and more all across our great country.
So, can we please — please! — open our venue doors soon to return to a sense or normalcy for everyone while understanding and working toward deep-rooted issues within our country that must be solved?
Those days of opening are actually sooner than later, we are happy to share.
Let's start with the magnificent Orange County Convention Center in Orlando, which will host its first event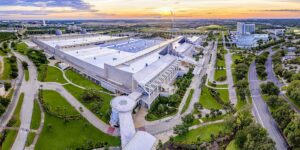 since March with the 47th Amateur Athletic Union (AAU) Junior National Volleyball Championships on July 14. The significance is that the venue is among the first in the convention center sector in the country to host an event since the pandemic effectively shut down the industry with the March 11 declaration while games were in play that the National Basketball Association was postponing its season after Utah Jazz center Rudy Gobert tested positive for the virus.
The convention center game plan for the tournament is thorough, as it should be for an event taking place over 12 days and occupying almost one million square feet.
Among the key points as presented by venue Executive Director Mark Tester to the Orange County Economic Recovery Task Force.
* Teams arrive in three waves with no spectators.
* Courts will employ physical distancing and staggered start times, with dedicated entrances and exits throughout the building and temperature checks at certain entries.
OCCC expects its Global Biorisk Advisory Council Star (GBAC) accreditation by July 14. GBAC (see other story in Front Row News) involves meeting detailed guidelines and performance criteria on sanitation, disinfection and infectious disease prevention best practices. The advisory council's parent organization is ISSA, known until 2005 as the International Sanitary Supply Association.
Elsewhere, the PBR (Professional Bull Riders) has announced a new competition that will begin in June and culminate in a championship event with fans in attendance at the Denny Sanford Premier Center in Sioux Falls, South Dakota, in July.
The "PBR Monster Energy Team Challenge" competition will feature 48 professional bull riders split into 12 teams and two divisions. Teams will face off until two finalists remain, with the finals slated for July 10-12.
The first four weekends of the team challenge in Las Vegas will be closed to the public (June 5-28), but the championship weekend will be a ticketed event that is open to spectators.
This will be the first PBR event that is open to fans since early March and likely one of the first national events to feature spectators since the COVID-19 crisis began.
Brian Haenchen of the Sioux Falls ARGUS LEADER noted that the venue will be "open to fans (for the first time) since early March and likely one of the first national events to feature spectators since the COVID-19 crisis began."
ASM Global, which manages the Denny Sanford Premier Center, will activate its Venue Shield, an "advanced environmental hygiene protocol that reduces physical touch points, increases venue sanitization and cleanliness, and provides various health monitoring guidelines and services."
Among the guidelines for the PBR include:
* Tickets will be "for only approximately 35% of the capacity for PBR events at the arena."
* Seating that separates fans with a "minimum four- to six-foot buffer between ticketed seats and minimizes the potential for crossover for fans entering and exiting their seats."
* Medical testing and screening for "all staff as they enter the venue," as well as "complimentary facial coverings for fans."
* More efficient "'top to bottom' exit following the event to reduce aisle, hallway and exit congregation."
Finally, have you heard that the NBA is inching closer to resuming that end-of-regular-season and playoffs that shut down on March 11?
The NBA's Board of Governors is set to approve a restart to its season that would include 22 teams playing at Disney World in Orlando. The league is targeting a July 31 date to start the tournament. The league's safety protocols will include daily testing for coronavirus in addition to limiting contact between players and Disney staff.
Meanwhile, Major League Soccer (MLS) is moving forward with a season restart in Orlando as the players union recently approved the plan. The players also agreed to a proposal that cut salaries for this season while also extending the collective bargaining agreement through 2025. MLS Commissioner Don Garber said the league will take a $1 billion revenue hit because of the coronavirus hiatus.
As for Major League Baseball, um, let's not talk about that right now. We will get back to you if and when the MLBPA union and owners can come to some sort of agreement for teams to begin and play some type of 2020 season.
All in all, let's give thanks as our venues begin the crawl to welcoming guests. Please share with us your venue or others you know with definitive opening dates so we can be the bearers of some good news in these very trying and challenging times.