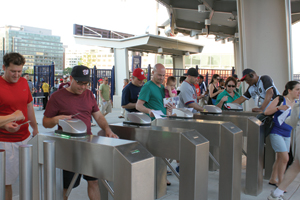 The Washington Nationals of Major League Baseball announced recently that, for the upcoming season, they will introduce an Ultimate Ballpark Access pass, in which season ticket holders will carry a Smart Card to enter the stadium, grab concessions, scoop up merchandise and even receive text messages and emails thanking them for attending a particular number of games. It is all technology, designed to enhance the full stadium experience and expedite matters for the season ticket holder. It begins when the cardholder shows up to the park. He waves his card across a reader at a turnstile, and whether manned or not, he is able to gain entry.
So why the long faces on some season ticket holders? Because they miss the printed, hard ticket that not only serves as a voucher for admission, but for many becomes a souvenir keepsake and something to show off at work the next day. As a personal confession, I must admit that I have within one large frame on a wall at home numerous ticket stubs and media credentials from sporting events and concerts going back a number of years.
The easy jump-to conclusion is that only the "older" generation prefers the printed tickets while the "younger" generation is down with one card that can be used at all home games. The reason you find these demographics in parenthesis is because, as my parents taught me, "You shouldn't stereotype people."
Going back to the cards, I was introduced to them this past year as a long-time Dallas Mavericks season ticket holder. The team mailed "MVP Cards" for the 2012-13 Season. Basically, you take the card to an attendant, who scans it and prints out a receipt. Not quite as seamless as the unmanned turnstile scenario for the Nationals, but still a nod towards all access. We have a total of five people in my season ticket plan, and the team will in fact offer a second MVP Card to cover additional guests arriving separately. After that, it is up to the season ticket holder to forward tickets to the other parties. This process eliminates the pre-season meeting amongst the five of us where we exchange stories and laughs before exchanging tickets.
It is always a fun time but after this past year seemed to go the way of the … no, dinosaur is too easy …the way of the fax. The season ticket renewal form just arrived in the mail and after sifting through the pricing structure for next year I see a small piece of text offering printed books of tickets once more! Well, for a nominal $15 per book, of course. Still, that looks like an investment we will make.
After all, as one of our group (and a young man in his 20's, I might add) told me upon hearing that we could again get printed tickets, "Good, because having to print out those tickets and walk in with that sheet of paper was kind of like drinking out of a Dixie cup."