By Mike Klompstra
Thursday, August 22, 2019 was a special day for Dave Broekstra, SMG Chief Engineer for DeVos Place® and Van Andel Arena®. Broekstra, a military veteran, was presented with a handmade quilt from the Quilts of Valor Foundation during an award ceremony at the American Quilter's Society QuiltWeek held at DeVos Place August 21-24.
Quilts of Valor's mission is "to cover service members and veterans touched by war with comforting and healing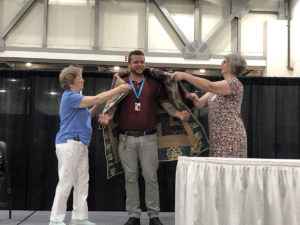 Quilts of Valor." Veterans and service members can be nominated to receive a quilt handmade by one of thousands of volunteers. Broekstra was nominated for his service in the United States Marine Corps. After a brief opening, volunteers from Quilts of Valor presented Broekstra with his own handmade quilt by wrapping him in the quilt as a thank you for his service, sacrifice, and valor in serving the United States.
"I am incredibly grateful to the women and men from the Quilts of Valor Foundation who spend their time to create such amazing quilts," Broekstra said. "Their effort and care is truly appreciated."
Broekstra entered the United States Marine Corps in June of 2001 and served active duty until June of 2006. During his service, Dave was awarded with the Iraq Campaign Medal, Afghanistan Campaign Medal, Global War on Terrorism Service Medal, Navy and Marine Corps Achievement Medal, Marine Corps Good Conduct Medal, along with other ribbons, commendations, and badges. He worked as a Fixed Wing Aircraft Airframe Mechanic and later became Work Center Supervisor/NCOIC responsible for the wellbeing and professional development of nine junior marines while deployed to Iraq. During his deployment, he was the only KC-130J Airframe Collateral Duty Inspector (CDI) responsible for the repair, inspection and maintenance of all deployed KC-130J aircraft. In 2008, Dave was honorably discharged from the United States Marine Corps. He has been with SMG since 2012 and is responsible for overseeing everyday maintenance operations, renovations, and implementation of new technology at both DeVos Place and Van Andel Arena.
Founded in 2003 by a Blue Star Mother, Quilts of Valor grew from a few friends sending quilts to soldiers in active duty to honoring veterans and service members with over 11,000 members and 600 groups volunteering their time and energy to the cause. With just five full-time staff, Quilts of Valor has awarded over 200,000 quilts in all 50 states and are on track to present a quarter-million quilts by the spring of 2020. Over 17,500 quilts have been awarded in 2019 alone.
To nominate a veteran for a Quilt of Valor, you can submit his or her name at the following online form through the Quilts of Valor website https://www.qovf.org/request-qov/.
Mike Klompstra is Digital Marketing Coordinator for SMG – Van Andel Arena & DeVos Place