SMG, the venue management company that manages Van Andel Arena, DeVos Place®, and DeVos Performance Hall, is moving forward with staff realignment that is aimed to increase efficiency of their business functions. Coming off a banner year for Van Andel Arena, the company looked at how it could restructure departments to continue building on that momentum.
Continuing the commitment to safety and security, Director of Event Services Todd Johnson has transitioned into a new role as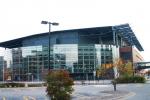 Director of Event Operations & Security. "Keeping a secure building has always been a top priority at front of mind for us," said SMG Regional General Manager Richard MacKeigan. "Creating this position gives us another pillar for our venues to maintain a strong dedication to keeping a safe and secure environment for our staff, patrons, and vendors."
"We are always looking at additional ways to enhance our security measures to create a safe and enjoyable guest experience," added Johnson. "We will continue to look at what we are doing now and what we can do in the future to consistently be improving the steps we already have in place."
SMG has seen staff changes and realignment in other departments as well. Chris Anderson was recently named as Chief Engineer for Van Andel Arena and DeVos Place.
The box office recently created a new Ticketing Coordinator position to add to their staff and welcomed Josh Zeigler into the position. The realignment in the box office will also include the management of group sales and suite/premium seat sales and rentals, which was previously a function of the marketing department.
Following the hiring of new Director of Marketing Hilarie Szarowicz last year, SMG's marketing department has also welcomed new Marketing Manager Alison Goodyke and has transitioned Group Sales Manager Rebecca Chesnut into a new Promotions and Special Events Manager role and Marketing Assistant Mike Klompstra into a new Digital Marketing Coordinator role.