SMG-managed Van Andel Arena was awarded the title of 2018 Biggest Loser in the Michigan Battle of the Buildings competition. Over one thousand buildings across the state competed in the year-long energy and water reduction competition hosted by the U.S. Green Building Council of West Michigan (USGBC-WM) and sponsored by Consumers Energy, DTE Energy and the Michigan Energy Office.
Van Andel Arena reduced energy consumption by a total of 12% to take home first place in the Entertainment category. SMG staff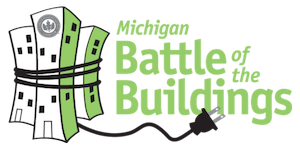 at Van Andel Arena engaged in action to cut their energy waste in a variety of ways. Among many initiatives, SMG completed a four-year project of compressor rebuilds and installed new LED aisle lights in the bowl of the arena as well as various office and meeting spaces. New variable frequency drives were installed on motors to increase energy efficiency, and the maintenance department utilized more ways recycle indoor air and use the outdoor air for cooling when possible.
"We are always looking for ways to reduce waste and be more energy efficient," said SMG Assistant General Manager Eddie Tadlock. "It's gratifying to know we reside in a community that places a high priority on environmental impact. We are honored to be recognized for our efforts in reducing our carbon footprint. It is a privilege to be a part of this competition with other organizations that are actively working to make better and more efficient use of our energy resources."
"Deep reductions like this are a great example of what can be accomplished when you take a deliberate approach to energy efficient operations," said Cheri Holman, Executive Director, USGBC-WM. "Dollars saved on energy conservation will filter straight to the company's bottom line."