SMG Tulsa hosted a day of educational training at the Cox Business Center on October 30. Focused on risk mitigation and emergency preparedness for a variety of venues and crowd sizes, the training was attended by over 250 event professionals and first responders. The event featured representatives from the International Association of Venue Managers (IAVM), Department of Homeland Security, BOK Center, Tulsa Police Department, the National Fire Protection Association, and the Cox Business Center.
"Preventing terrorism, enhancing security, and ensuring resilience from disasters has been the goal of the International Association of Venue Manager's security initiatives," said Mark Herrera, IAVM Director of Education | Life Safety. " It is imperative that we continue to find innovative ways protect all venues and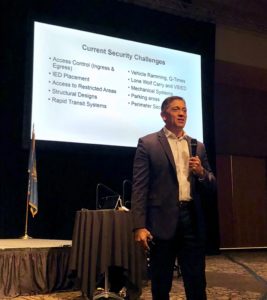 raise our baseline security posture such as the most recent emergency preparedness training held at Cox Business Center in Tulsa Oklahoma."
The event began with an overview of safety concerns and measures unique to the city and its Arena District. The "Safety of the City" presentation featured SMG Tulsa General Manager Nickler and Assistant General Manager Kerry Painter, CVE, CEM, CMP, in a sit-down interview Tulsa Police Chief Chuck Jordan.
"It's tempting to think it won't happen here or it can never happen in Tulsa, but that's not the case," stated SMG Tulsa General Manager Jeff Nickler. "We're being proactive as a community and coming together to train and learn so Tulsa is prepared."
"The dynamic threat environment involving potential vehicle ramming, knife attacks, small arms attacks and Improvised explosive attacks has prompted venues to look beyond the physical security measures and focus on increasing observational capabilities," noted Herrera. "Venues today, like COX Business Center, understand the importance of coordinated training with key stakeholders and other organizations within their respective community. It is the goal of IAVM, through it's Academy for Venue Safety and Security (AVSS), Venue Safety & Security Committees, and the live training programs to provide every venue and organization with exceptional focus, performance, and control in extreme situations."
The event's sessions included "Situational Awareness (Risk Mitigation through Guest Service Interjection)," "Active Threat / Active Shooter Overview," and "Trained Crowd Manager" and featured Herrera, Paul Villotti, PE, Director of Life Safety, Henderson Engineering, and Glenn Moore, U.S. Department of Homeland Security. IAVM provided a live-stream of the three training session on its Facebook page.
For more information on how you can offer live safety and security training at your venue, click here.