As the NCAA Official Supplier for Portable Seating since 2006 and with a family business history dating back to 1925, Rancho Dominguez, California-based Spec Seats knows a thing or two about putting player, coach and fan fannies into portable seating at the NCAA Men's and Women's Final Four Basketball Tournaments and many of the regional tournaments leading up to the grand finale when national champions are crowned.
Spec Seats supplied for both the 2017 Women's Final Four at American Airlines Center in Dallas as well as the 2017 Men's Final Four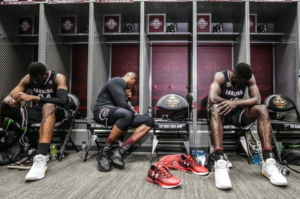 at the University of Phoenix Stadium in Glendale, Arizona. The seats, as always, were a cushy hit.
"The folding chairs were provided on the first 35 rows of the deck and then also the end zones where the student sections were located," said Jordan Hergott, sales director. "The chairs were also in the locker room and the players not only got to sit in the chairs but got to keep them after the game."
In addition, Spec Seats provided the logoed chairs on the team benches as well as on stools that many coaches prefer to sit on to address the team during timeouts. Prior to the Final Four, the company handled portable seating for the First Four (four teams that played lead-in games to the tournament) and first and second rounds of regionals.
Fans in the first 35 rows enjoyed the comfort of the chairs while viewing the game from perfect sightlines. Hergott said that Spec Seats has met the challenge since the NCAA years ago moved the Final Four into domed professional sports stadiums.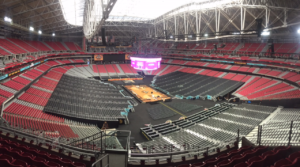 Just the amount of chairs provided (in the huge domes)," Hergott said in discussing the biggest challenge the company faces. "They wanted to do the 20-inch wide chairs, so we actually designed and patented a spacer bracket that slides into the ganging brackets which allows them the flexibility to either have the 20-inch width but also play around with the chairs not fitted correctly. We designed the 20-inch wide chair because they wanted to have a little bit more comfort between the chairs and give patrons more flexibility and movement."
Hergott said that Spec Seats works closely with each venue site to ensure that the seating fully meets, well, the specs of the facility.
"The way our chairs are designed is that we customize them from scratch to begin with to work within these configurations," he said. "The feedback has all been positive. It has been used for the past nine Final Fours and has been a huge success."
Next up is the 2018 Final Four at the Alamodome in San Antonio. Spec Seats will again be there, and visible from any camera angle on any side of the court.