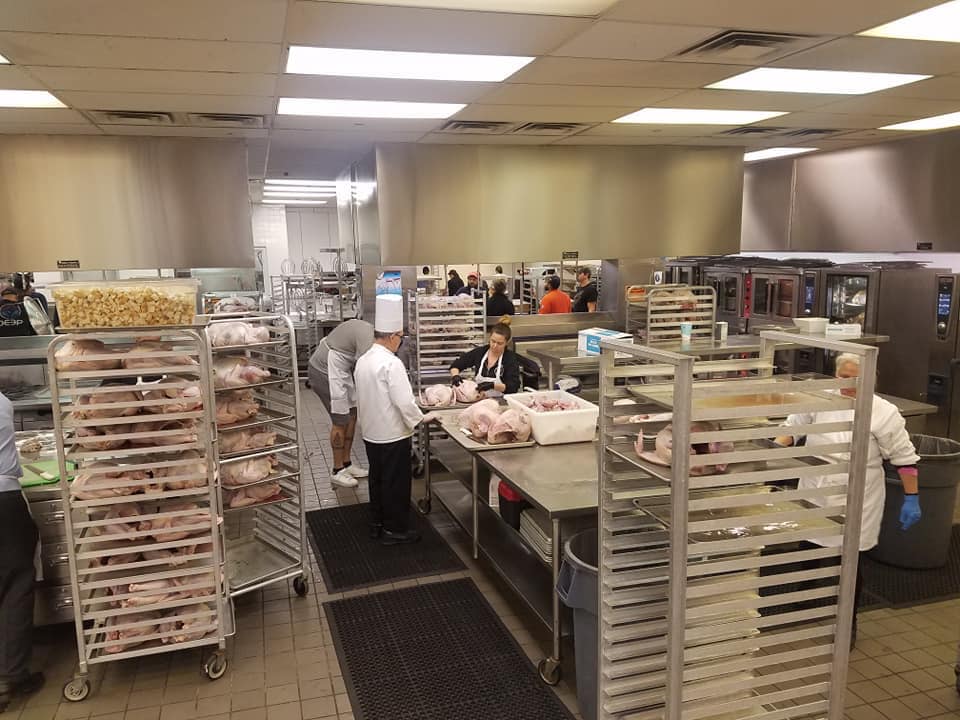 By R.V. Baugus
Many items are essential during this time of pandemic. There is the need for Protective Personal Equipment (PPE) for frontline workers. There is the need for masks and ventilators. For the unemployed, there is the need for income. For the hungry, there is the need for food.
Scott Swiger, vice president of culinary excellence with Spectra Venue Management, is part of a team that is doing its part to help feed the hungry. It is devastating to see the news images of cars lined for miles waiting for rations of food, something that tugs on the heartstrings of Swiger and his team.
"We wanted to really make sure that we could get food in communities that could benefit from that and that it didn't just sit around or in a dumpster somewhere," Swiger said by phone from Philadelphia. "It got to people in need and we were able to help some folks."
Swiger said when it became apparent weeks ago that there would be a shutdown of life as Americans knew it, it was time to spring into action.
"We saw in many cases venues that had product in and production started," he said. "We were ready to go whether it was a soccer game or a convention or gala or whatever it was."
Those events, of course, would not happen.
"One of the things I always say working on the culinary side and the food side is we like to feed people and we don't like to see things go to waste," Swiger said. "It became clear wee were going to have a lot of product that we couldn't do anything with."
Spectra, in tandem with its convention centers across North America, began identifying opportunities for food recovery, donating into the local community or among part-time staff. In many instances, Spectra is collaborating with Food Recovery Network (FRN), a national nonprofit that fights food waste, to locate the most appropriate place for the food donation.
"FRN has been a big help with this," Swiager said. "Oftentimes our chefs and managers at our venues and just by the nature of working in a convention center that are public buildings have strong ties with the community and maybe working with a local shelter or existing charities. But this was more in terms of volume of food. It's one thing if you're a shelter that has a standing double-door refrigerator and how now you got thousands of pounds worth of food. You send it over to them it's not going to do any good because they can't even store it.
"So Food Recovery Network was able to quickly find a point of contact and has a national reach and knew partners and the capabilities of all the different organizations that are feeding people across the country. They can help connect the dots when we weren't sure what to do with product. Where's the best place for it?"
Swiger said FRN identifies those places and often help transport the food. He added that FRN initially started in the university space and is a volunteer network of cities and universities across the country.
There are also many part-time staffers at venues who are now no longer working. These are often individuals working one or more jobs and they too have a need to have food on their table. Swiger noted that on a recent weekend Philadelphia-based national distributor US Foods worked with local restaurants to identify people in need who are currently unemployed. "They are putting together grocery bags and distributing to folks," he said. "
It's a big impact and there are certainly a lot of people right now who need the help."
Spectra participated in the weekend event and cited the need to feed people at Spectra venues that have been converted to field medical sites and such.
No one, of course, can predict the future and the inherent needs, but Swiger and Spectra are ready to help.
"In the first week or two anything that was perishable was donated," he said. "We knew this was going to be more than a week or two. There were a couple of locations where we had product in for specific events and as we see those events did not happen. The bulk of it really happened at first. I am not sure 100 percent what continued engagement will look like and it may vary some by market and needs.
"There are so many variables. For patient feeding you get a very specialized diet. A stadium is not necessarily typically set up to handle that. It's kind of a mix that's being approached. It's resources and capabilities needing it whether it's the Army or FEMA. We're working through those types of questions."
Swiger shared a story concerning George Fisher, the executive chef at Spectra-managed Atlantic City Convention Center, that shines a bright light on the industry.
"George is always involved with the local community and did the same thing as our weekend event," Swiger said. "He went through his product and his stuff and got it donated into local shelters. He actually started reaching out to chefs at other places like casinos and properties throughout the city and helping them do the same.
"He identified there was going to be this waste and there was a need. It was for local shelters and community groups and food banks that were providing resources. As casinos started to close he reached out and basically helped them figure out what to do with their product. This wasn't Spectra involved, but it met a need.
"Sometimes this is overwhelming and it's nice to see bright spots out there and people who go above and beyond. When you've got something you need to help somebody else. I'm in the business of feeding people and also reducing waste is something I am personally passionate about. There would be potentially a huge amount of waste if we didn't move quick."
Photo: Food preparation at the Atlantic City Convention Center.