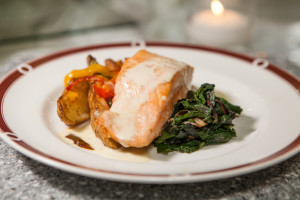 Mother's Day is this Sunday, May 12, and for the fifth consecutive year the St. Charles (MO) Convention Center will host a brunch to not only celebrate moms but to turn some extra non-traditional revenue as well.
"This event provides a great opportunity to showcase the capabilities of Global Spectrum (the venue's management firm) to the local community and the overall beauty of the space itself," said Joe Capitanelli, marketing manager at the venue that opened in 2005. "If you haven't attended a wedding or other meeting or conference here, it's possible the general public probably hasn't had a chance to experience what we can do. This event allows the community to enjoy the Center in other ways than just attending public and consumer events."
The idea for the Mother's Day brunch was hatched by the staff of Shura Garnett, CFE, Global Spectrum's general manager and regional vice president for the facility. In an interview with Facility Manager in 2009 as she was preparing to take the reins as IAVM's new chair, Garnett noted that coming up with ideas is just the beginning.
"If you come up with the idea, you have to be willing to come up with the marketing plan and business plan for it," she said. "It's great cross-training for the staff members because they get to do something they've not done before."
Seating times are between 10 a.m. and 1 p.m. on the half-hour on Mother's Day, and features a customized menu created by the venue's award-winning Executive Head Chef, Roland Scheller. A local violin trio entertains to create an elegant feel to the event and each mother receives a flower.
"Instead of getting into a pity party and wallowing in it, we asked what can we do different?"
"Something new this year is that we partnered with a local massage company and a local event publication," said Capitanelli. "Mothers can sign up to receive the publication online for free and be entered for their chance to win one of seven free massage packages to be given away during each seating time. It's an effort to differentiate ourselves from the competition."
Capitanelli said that the event typically draws between 350 and 450 people spread out over the seven seating times.
Back in those tough economic climate days in 2009, Garnett said that, "Instead of getting into a pity party and wallowing in it, we asked what can we do different?"
An event promoted as "An Elegant Mother's Day Brunch Buffet Perfect for Any Family of Any Size!" is one loud and successful answer. The extra non-traditional revenue it brings in is icing on the cake, or in the case of one of Chef Scheller's creations, icing on the Ricotta Cheesecake.