By R.V. Baugus
Andy Gorchov, General Manager of State Farm Stadium in Glendale, Arizona, gets to be the "home team" when VenueConnect rolls into Phoenix in just a month from now. In fact, as this newsletter reaches IAVM members it is in fact one month exactly when Gorchov will present the keynote address to the Stadiums Sector on July 21 from 11 am-11:45 am at the Phoenix Convention Center about a pair of, oh, fairly major events coming up at the stadium that is home to the Arizona Cardinals. We will get into that shortly as we get to know Andy a little better and what he will be speaking on at VenueConnect.
Share a little of your background and your current role at State Farm Stadium.
I serve as General Manager for ASM Global at State Farm Stadium where I am responsible for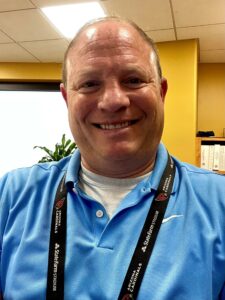 overseeing the day to day and event operations of the stadium and for booking all non-football events. Prior to joining State Farm Stadium, I spent 15 years with the Denver Broncos at Empower Field at Mile High including five years as stadium general manager. I started my career in college with SMG working at the Pittsburgh Civic Arena. I additionally served as SMG's Director of Operations for Nationwide Arena in Columbus, Ohio during pre-opening and the first full operating season. I also worked for CAA Icon, an industry leading owner's representative and strategic management firm for public/private sports & entertainment facility owners and operators, where I served on the project team overseeing the renovation of Wrigley Field in Chicago. I am a native of Philadelphia with a degree from the University of Pittsburgh.
We understand you happen to have two of the biggest sporting events in the world coming up in 2024. What are those and how are things going early on in preparing for them?
State Farm Stadium will be hosting its third Super Bowl in February 2023 and its second NCAA Men's Final Four Basketball Championship in 2024. Planning efforts are going well. Working in partnership with the NFL along with Arizona's well-established and experienced local organizing committee, we are excited to deliver an outstanding experience for all involved.
What do you expect to be sharing with your audience at VenueConnect?
In addition to providing a general overview of State Farm Stadium and the planning efforts associated with the Super Bowl and Final Four, I want to provide some insight regarding our current efforts in improving the employee experience to assist with the staffing challenges that many venues are experiencing today.
Everyone likes a main takeaway that they can return to their venue and use. What will be a takeaway you would like to leave for the audience?
Regardless of the bells and whistles of your venue, it's the people that make the place. Delivering a world-class experience for our guests requires an equally world-class experience for our staff.