(Editor's Note: The first time I met Steve Romer was on his home turf of Sydney, Australia back in 2009. I was on a whirlwind two-week assignment for then Facility Manager magazine and Sydney would be my final stop and where I would meet a number of venue managers from throughout Australia to have a roundtable interview about the challenges and successes of Australian venues. Steve was the first IAVM member I saw upon arriving in Sydney and was my host. He took me out for a delightful lunch just across from the iconic Sydney Opera House and then gave a tour of the Sydney Convention & Exhibition Centre that he oversaw. I just remember Steve's warmth, ever-present smile, and of course his awesome Australian accent. We struck up a solid friendship that very day that has continued until this day. God bless you in your retirement and whatever comes next in your life, mate! –R.V.)
After almost four decades of working with some of Australia's most iconic entertainment venues, live music festivals and event venues, industry veteran Steve Romer will retire on November 11, 2022.
Romer worked through two years of COVID health directives and managed to stage some 350+ events in his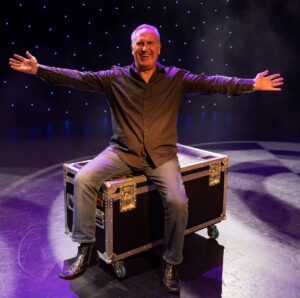 final role as General Manager of The Events Centre Caloundra (TEC). The venue proved to be one of the busiest regional venues in the country and recorded its largest profitability ever during Romer's tenure.
Romer held various leadership roles with venues including Byron Bay's Bluesfest, the Sydney Entertainment Centre, the Sydney Convention & Exhibition Centre, Blacktown International Sports Park, SeaWorld, Dreamworld, and other many other major venues.
On reviewing the highlights of his career, Romer was most proud of his contribution to the venue management industry, including nine years as a Board Director of the Venue Management Association Asia Pacific (VMA), including three years as VMA Chairman.
He was instrumental in setting up VMA's formal affiliation with the International Association of Venue Managers (IAVM), where he also served as a Director on IAVM's Board for three years.
Romer spent five years on the Board of the Talent Development Project (TDP), a professional program nurturing the creative talents of aspiring artists, and most recently served four years on the Board of HOTA (Home of the Arts – Gold Coast).
As the General Manager of the Sydney Entertainment Centre (2009 – 2013), Romer was extremely proud to have the venue ranked as the #2 arena in the world in 2012, according to respected industry magazine "Billboard".
Romer was also named as the recipient of VMA's "Venue Professional of the Year" award in 2012.
Romer's plans include extensive travel, spending time with family and friends, and enjoying an active life with his partner Debbie on the Sunshine Coast.