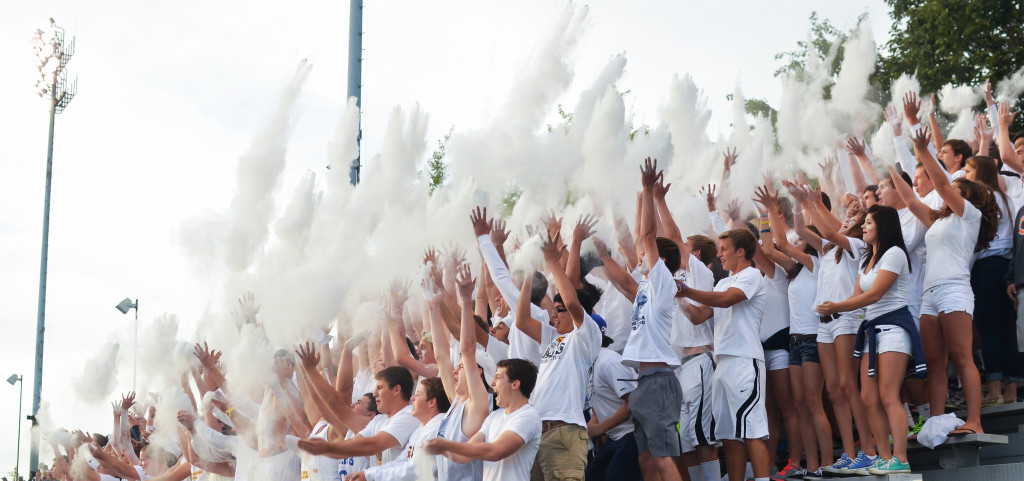 The National Association of Collegiate Marketing Administrators (NACMA) and the Warsaw Sports Marketing Center at the University of Oregon recently conducted a study to discover how to get students into stadiums and keep them there until the event is over.
"It's definitely a huge concern to capture their attention and get them to games while they're in school because once you lose them, it's that much harder to increase that fandom," lead investigator Andrew Guerra to USA Today. "You can get fans there but if they're not engaged in the game, not only does it deplete the fan experience but it depletes the home-field advantage that these teams have."
The report, "Student Attendance at Collegiate Sporting Events," used survey data from 18,876 students at schools in 32 conferences and focused on attendance at football and men's basketball games. Study participants were asked what influences them to attends games, viewing preferences, and social media habits, among others.
Some of the key findings from the USA Today story include
— Average student affinity was 7.1 out of 10, with 81 percent of students attending at least one live sporting event.
— Interest in the sport, game time, ticket price, opponent, and team record were the most influential in students' determination whether to attend a sporting event.
— Students indicated their favorite parts of the game-day experience were watching live game action (23 percent), in-stadium atmosphere (17 percent) and tailgating (15 percent). Of overall respondents, 28 percent chose stadium and concession food as the most enjoyable part of attending home games, with that option ranking first among Power Five and FBS schools.
— Of students who follow the team on Facebook, 72 percent attended three or more home football games. Of those who didn't, 44 percent attended three or more games. Facebook followers of teams were 63 percent more likely to attend three or more home games than students who didn't follow the team on Facebook, and that trend held for other social media. Twitter (61 percent), Snapchat (47 percent), and Instagram (48 percent) made students more likely to attend three or more home games.
— Students who said Wi-Fi connectivity was not important in their decision to attend games did so at a higher rate than students who said it was.
— Although 67 percent of students agreed watching games is "more comfortable at home," it scored lower than 2.5 on a scale of 5 on how likely it would be to prevent game attendance.
— Personal errands, hanging out with friends and family, and using the Internet were the biggest competing interests in deciding whether students attended three or more games.
— Nearly a quarter of respondents reported leaving before a game is 75 percent complete. Potential incentives for them to stay for the entire game included free T-shirts, a sponsored post-game party, loyalty points, and concession discounts, in that order. Loyalty points and meet and greets with players yielded the strongest results.
Check out our article, "How to Increase Student Attendance at Games" for more ideas on this subject.
(Image: Erik Drost/Creative Commons)