When author and speaker Sunjay Nath comes to Toronto and VenueConnect to keynote the International Convention Center Conference sector meeting on July 25 from 9:15-10:15 a.m. (ET), he will do so knowing that he will be speaking to an audience that seeks results in their business.
No problem.
"My programs are designed to show how by focusing on your strengths you yield the highest results," said Nath, who travels globally sharing insights on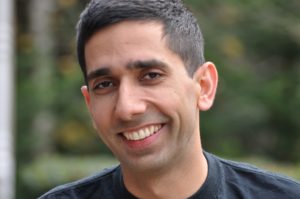 leadership and performance and who will lead a program entitled Strength-Based Leadership: The 10-80-10 Principle. "That means, the more you can spend time with your best clients, vendors, and customers, the more likely you are to create a wonderful experience. Then those people talk about what a great experience they had and that attracts more 'best' clients, vendors, and customers. It's a positive cycle that reinforces itself and over time creates an organizational culture that both employees and customers look forward to interacting with one another."
Attendees will look forward to interacting with Nath in his presentation that is delivered in a high-energy, high-content, and highly humorous manner. The 10-80-10 Principle is a framework that allows you to increase your performance and results by focusing your energy and efforts on highest yielding activities. It also helps individuals and teams operate at a dynamic level.
The principle, in short, is that every person or group already exhibits behaviors that are Top 10 (percent) and lead to high performance or achievement. What people lack is the knowledge and a framework to consistently operate at that dynamic Top 10 level. The 10-80-10 Principle program provides a methodology to reward and grow Top 10 behaviors and neutralize Bottom 10 actions.
"I would love it if people realized that by focusing on the strengths of the team, team members, and their respective venues that will increase customer experience, job satisfaction, and fun while decreasing burnout and stress," Nath said.
As Nath prepares for his presentation, he has discovered a public assembly venue industry that is already dynamic in nature yet has many who contribute who are still "under the radar."
"The industry is very much made up of unsung heroes," he said. "Meetings and conventions take place all around the continent and most people do appreciate how much work it is on the backend to get the venues ready and maintain them to maximize the experience for all of those who pass through the venue. I think that they deserve much more of the spotlight than they get."
Nath, the father of three high-energy boys who are all competitive gymnasts, has been energizing crowds for years and began an international speaking business when he was only 19. In 2005, he became the youngest Canadian and third youngest in the world to earn his Certified Speaking Professional (CSP) designation, the highest internationally that a speaker can aspire to achieve.