By Kristina Lankow
In response to the COVID-19 pandemic, the Swiftel Center full-time team recognized the on-site kitchen as an asset to support local community programs. The team connected with the Inter-Lakes Community Action Partnership (ICAP) and Brookings (SD) Area United Way. Through this collaboration, the Swiftel Center catering is preparing more than 400 frozen meals that will be distributed by ICAP throughout the Brookings community. This is the first week of the collaboration, with all parties recognizing that the need for additional frozen meals may grow as the community continues to navigate the changing conditions due to COVID-19.
Following the direction from the City of Brookings, the Swiftel Center facility is currently closed to the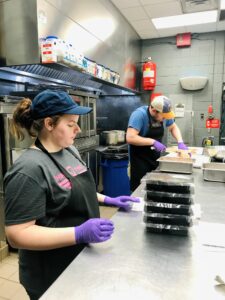 public. However, even while the doors are closed, the full-time team is continuing to carry out the mission of the facility "…to enhance the quality of life for the citizens of the region…" The full-time team is continuing to work and find ways, like this catering collaboration, to serve Brookings.
Frozen meal packs are available to any 60's Plus Dining clients. Quality, balanced, nutritious meals are flash frozen in specialty sealed containers. These frozen meals can be heated in a microwave or oven, and provide one third of daily recommended nutrition amounts. For each seven-day meal pack, clients can select seven frozen meals from the ten available options. In addition, each seven-day meal pack includes a small loaf of bread, fruit juice and a half gallon of milk. Packs are offered for a free will donation; the suggested amount for each seven-day meal pack is $27.
Adults who would like to place a seven-day meal pack order can contact the 60's Plus Dining program manager Julie Scubelek at 605-692-1407 and jscubelek@interlakescap.com. Families who would like to place an order for a loved one are also encouraged to contact the program manager. There are also volunteer opportunities available including meal delivery volunteering. Contact the program manager for more information.
Kristina Lankow is Sales & Marketing Manager for Swiftel Center, managed by VenuWorks.