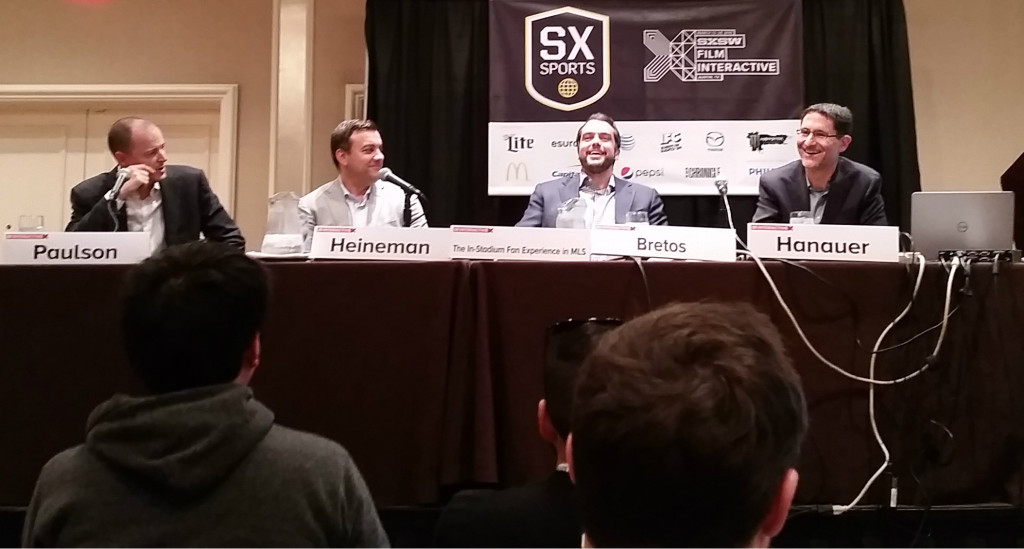 It's no secret that soccer in the U.S. is popular.
"More fans are watching, and each new team brings its own authentic crew of supporters groups' along with it, a very important improvement over 20 years ago, when the league seemed to market itself exclusively to nuclear families and soccer moms, an experiment that didn't pan out," Gary Singh wrote in our feature about the sport.
Soccer's popularity was evident during a standing-room only session at the 2015 South by Southwest conference. The session—moderated by SportsCenter Anchor Max Bretos—featured three Major League Soccer owners who talked about why the sport is popular and how they're using technology to attract more fans.
"Going after the young, hip, tech-savvy crowd has been a huge advantage for us because they're excited and enthusiastic about the sport," said Adrian Hanauer, owner of the Seattle Sounders FC. "We made conscious decisions to appeal to the 'cool' kids. Once we got them, then the families followed."
Sporting Kansas City Owner and CEO Robb Heineman spoke about the importance of branding.
"We want fans to feel like they're part of a brand rather than fan of the brand," Heineman said. "We want everyone to feel like a VIP."
Concerning technology, Portland Timbers Owner Merritt Paulson said that his club uses tech where it can help them and not just for its own sake. He noted that he'd rather have people watching the game than a phone.
Heineman had a different view.
"Our mobile goal is to find out who is in a venue and what they're doing," Heineman said. "I love following games on Twitter, we push team news through social media, and I do 'flying tweet' Q&As during long flights."
You could tell Heineman loves the sport and everything that revolves around the game-day experience.
"Soccer is a perfect game when played in a great venue," he said.
Judging by the applause volume, many in attendance agreed.