Taylor Harrison Speegle, director of corporate relations for Walton Arts Center/Walmart AMP, has been named a member of the 2018 Arkansas Business 40 Under 40 class. Each year, Arkansas Business honors 40 intriguing business and political leaders who are under 40 years old.
Speegle graduated from the University of Arkansas at Fayetteville with a degree in theater then completed graduate school at Carnegie Mellon University in Pittsburgh with focus on production design and management.
Speegle worked for Walton Arts Center from 2008-2010 before leaving for graduate school. He returned to the area and rejoined Walton Arts Center's team as director of development for the Walmart AMP.
"I'm the business guy behind what's going on in live entertainment," Speegle said. "It fits me really, really well. I love talking about production with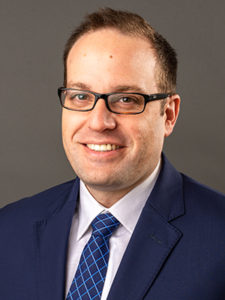 the team at Walton Arts Center. I also really love the idea of crunching numbers, making sure we're staying on budget."
In his current role, Speegle is responsible for all corporate fundraising for both venues including Masquerade Ball and Art of Wine at Walton Arts Center and AMP Fest, the region's beer, food and tech festival, at the Walmart AMP.
"I have always been a mission-driven kind of guy," he said. "As a nonprofit, we're raising money to expose children in northwest Arkansas to the performing arts and art in general. That was afforded to me as a child, and I want to make sure that happens for everybody."