By Mary Klida
Claude Molinari, general manager of ASM Global/TCF Center, announced a reorganization of security services in TCF Center that will assure customers and visitors the most advanced and extensive services designed to keep events safe.
"TCF Center security is constantly working with local, state, federal and international law enforcement agencies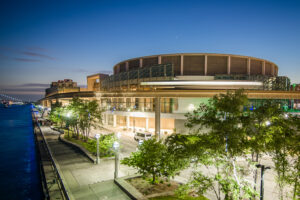 to provide safe and peaceful opportunities for events and visitors in the venue," said Molinari. "From the Coast Guard and Customs and Border Patrol protecting our Canadian border, to the Detroit Police Department and every agency in between that contributes to surveillance and response, our venue's event security is prepared to cover just about any conceivable eventuality."
Security measures for each event in TCF Center support the entire event ecosystem. A united effort to lessen risks through preparedness, security and safety measures are put in place to provide protection and peace of mind to all visitors.
To improve the organization of the TCF Center security operations, several aspects of the department have been enhanced and reorganized. In-house security staff scheduling has been expanded to three shifts, each with supervisors dedicated to specific events and building security outposts. A new dispatch command center staffed with TCF Center security officers seven days a week, 365 days a year has been created and the Closed-Circuit Television (CCTV) system expanded.
According to Molinari, "We operate a staffed, live-monitored command center 24/7, and we are now able to see almost everything happening around our 55-acre property. If we miss something, we can quickly review recorded video. The new system is quite comprehensive."
Security personnel in the command center are formally trained by experienced law enforcement dispatchers. Hundreds of cameras are on a dedicated network for video security and surveillance with a wide range of uses to diminish risk. It relies on video to help capture non-security-related occurrences to resolve issues around accidents, damage to the facility or injuries. Available to officers at all times is Computer Aided Dispatch (CAD) record keeping with enhanced record retrieval and statistical information on daily security activity.
TCF Center Security is available to assist clients with pre-event planning along with local law enforcement agencies. Events can also be screened for potential threats by the Detroit Police Department and the Department of Homeland Security.
TCF Center is a member of the Project Lighthouse Central Business District Neighborhood Watch, an organization developed and run by the Downtown Detroit Partnership. This allows information, two-way radio, and CCTV sharing to be monitored by the Detroit Police Department for city-wide events, assuring enhanced security for attendees throughout the downtown area.
The TCF Security Emergency Management Planning (SEMP) protocol requires yearly tabletop exercises including all security agency partners, with a full-scale active shooter exercise every three years that includes all staff.
Heightened security during a federal high alert warning can include an event security command center in partnership with Homeland Security on the premises, plain-clothed officers, road closings, restrictions on vehicle and pedestrian movement and standing, and an increase in security personnel. It may also include stop points to screen visitors entering exhibit halls or main entryways to the center, bomb-sniffing dog searches and strategic surveillance locations around events.
TCF Center's technology services are top-tier, and guarantee cybersecurity for customers with regular threat penetration testing to access the latest network threats and secure the network from them. These tests include Annual Payment Card Industry (PCI) testing for point-of-sale security to support customer credit card information security.
Mary Klida, is Senior Marketing & Communications Manager, at TCF Center, formerly Cobo Center.