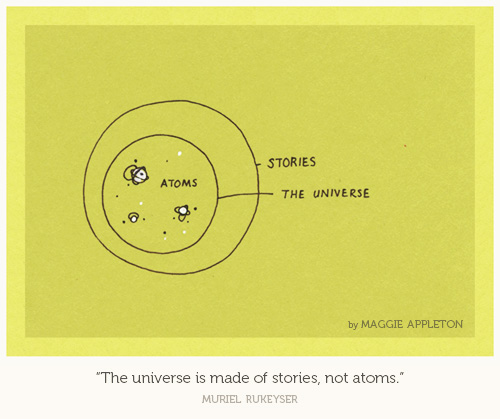 It's National Storytelling Week…well, in the U.K. at least. Still, whether you're celebrating it here in the U.S., across the Atlantic, or anywhere else in the world, storytelling is an important part of the human psyche. It's how we convey information, entertain each other, and comfort ourselves. Even in this age of listicles, storytelling is what drives creation and the desire for immortality . We're drawn to stories in all types of mediums.
For example, a Johns Hopkins researcher conducted a two-year study of 108 Super Bowl ads and found that people rated commercials with dramatic plotlines (e.g., exposition, rising action, climax, denouement) higher than those without storytelling elements.
"People think it's all about sex or humor or animals, but what we've found is that the underbelly of a great commercial is whether it tells a story or not," Keith A. Quesenberry, a lecturer in the university's Center for Leadership Education in the School of Engineering, told the Hub.
Quesenberry says that when marketers tell a complete story, an ad ranks higher in polls and causes more people to want to view and share it.
Let me take this chance to share with you, then, a bit of my editorial philosophy for FM magazine. As you may have guessed, it's rooted in storytelling, and it's what I wrote about in the Opening Words column in our latest issue. Too often, association magazines simply want to impart information and they neglect the humanity of the organizations. It doesn't have to be that way. Association magazines can hold their own against time-honored, narrative-driven publications such as Harper's, The New Yorker, or Wired, and my plan is to hold FM to that standard. If we focus on complete storytelling (e.g., exposition, rising action, climax, denouement), we'll not only have a much richer magazine but a more memorable one, too, one that you can't wait to share with your family, friends, co-workers, or employees. It's an ambitious goal, sure, and I believe we can achieve it together.
"Consumers want infotainment, not information," said author Gary Vaynerchuk in Jab, Jab, Jab, Right Hook. "Information is cheap and plentiful; information wrapped in story, however, is special."
As I concluded in my column, let's together show how special the venue management industry really is. It's definitely a great story to tell.
If you have a story idea, please feel free to email it to me at jason.hensel@iavm.org.
(photo credit: Eigappleton via photopin cc)