By R.V. Baugus
So much for the confusion between Globe Life Park and Globe Life Field in Arlington, home of the MLB Texas Rangers. To recap, Park is the still-standing former home of the baseball team, while just across the parking lot stands Field, the second-year home to the Rangers. Got it?
Well, kiss the confusion goodbye as the Rangers has a new naming rights partner for Globe Life Park in Choctaw Casinos & Resorts.
Globe Life park opened in 1994 (proud to say I was there for the first-ever game, an exhibition against the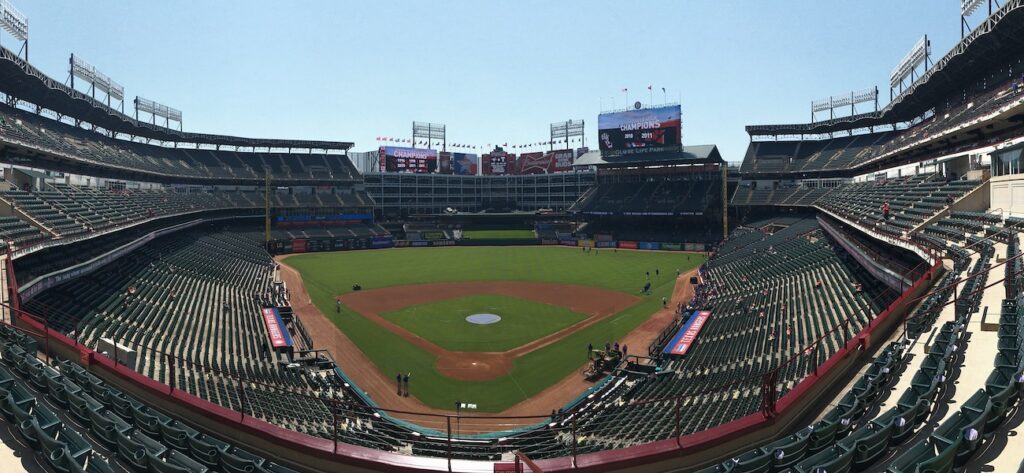 New York Mets) and is still a beautiful and viable venue that is now even more multi-purpose hosting the Dallas Renegades XFL American football franchise and North Texas Soccer Club, which competes in the USL League One division. Major League Rugby team the Dallas Jackals will also play at the stadium from next year. The stadium also serves as a home football field for the Arlington Independent School District.
Globe Life Park will now be known as Choctaw Stadium through a multi-year agreement. The deal marks an expansion of a partnership between the Rangers and Choctaw which started in 2010.
Choctaw serves as the official and exclusive casino and resort of the Rangers and benefits from significant branding at Globe Life Field. Its naming-rights deal for Globe Life Park will eliminate any confusion between the names of the Rangers' current stadium and the team's former home.
"The Rangers are thrilled to extend our great partnership with Choctaw for many years to come," Rangers Chairman and Managing Partner Ray Davis said. "Today's naming rights announcement for Globe Life Park further extends Choctaw's presence in the Arlington Entertainment District, which also includes Globe Life Field and Texas Live.
"Choctaw Stadium will be the home of numerous events in the days and months to come, including college and high school football, pro soccer, and Major League Rugby."
Choctaw is owned and operated by the Choctaw Nation of Oklahoma, the third largest Indian Nation in the US with close to 200,000 tribal members and 10,000 employees.
Choctaw Casinos & Resorts is excited to expand our relationship with the Texas Rangers and be part of a stadium that has brought so much joy over the years to so many in North Texas," added Gary Batton, chief of the Choctaw Nation. "We are proud to have our name on a field that continues to play an important role in the lives of North Texans and we look forward to sharing in the competition and enjoyment the stadium brings to the community."
Globe Life acquired naming rights to the Rangers' former home in 2014.