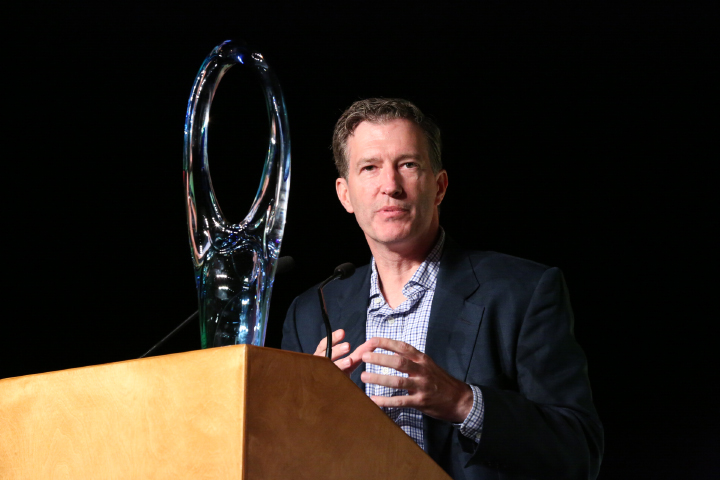 The 2016 Venue Industry Awards Luncheon—sponsored by Ungerboeck Software International, SMG, and The Expo Group and emceed by Chris Bigelow, founder and owner of The Bigelow Companies—took place during the 2016 VenueConnect Annual Conference & Trade Show in Minneapolis, Minnesota. The awards, hosted each year by IAVM, honor exceptional venues and professionals in several categories.
Venue Excellence Awards
The Venue Excellence Award (VEA) recognizes up to five IAVM venues of any type within the membership that demonstrate excellence in the management and operation of public assembly venues. This includes but is not limited to amphitheaters, arenas, auditoriums, casinos, complexes, convention centers, exhibit halls, fair/festival grounds, performing arts centers, race tracks, stadiums and university venues. IAVM takes pride in its members and member venues that excel in providing their communities with a safe and enjoyable space for all types of events and educational opportunities.
Arena Winner:
Moda Center—Portland, Oregon
This year's arena VEA winner rose to the top of the application pool by submitting an amazing, thorough, and well-written application. Some of its highlights were: Achieving LEED Gold Certification, the world's first existing sports venue to be retrofitted to meet the lofty standards for energy efficiency, implementing a program called CREATE to empower its employees to create extraordinary moments, conducting a DHS Risk Self-Assessment Tool with the goal of achieving SAFETY Act certification, and partnering with its tenant and Make-a-Wish to make a 13-year-old's dream come true.
"It was an honor to accept this award on behalf of the hundreds of hard-working people who create an extraordinary experience for our guests at the Moda Center every night," said Chris Oxley, vice president of business development and government affairs at Portland Trail Blazers. "We appreciate the recognition of our efforts in sustainability, employee relations, and fan engagement and will continue to find ways to innovate in these areas."
Complex Winner:
Fair Park—Dallas, Texas
This year's VEA winning complex is a National Historic Landmark in the ninth largest U.S. city and boasts the largest collection of art deco style architecture in U.S. The multi-venue entertainment complex features two performance venues, a stadium, five museums and is home to the largest state fair in the country. Its commitment to excellence in customer service and unwavering dedication to patron safety are a few of its hallmarks. Not only does it host 1,000-plus events annually, the team is proud of the hundreds of hours of service to the community through community outreach programs that keep them connected with their customers.
"We are thrilled to be the recipient of the 2016 Venue Excellence Award," said Daniel Huerta, assistant director of Fair Park and Community Services at the City of Dallas. "This is a beautiful and tangible affirmation of the endless professionalism, team work, and commitment of our staff. We are honored to have been recognized, in the company of so many worthy participants, with this outstanding award."
Convention Center Winner:
Los Angeles Convention Center—Los Angeles, California
The Los Angeles Convention Center (LACC) received a VEA as a result of its sustainability, financial, community outreach, and customer service initiatives. The LACC operated at a surplus and saved millions of dollars for the city's General Fund. It offered a long-term annual client an innovative service to reserve parking for its attendees ahead of time through its new partnership with Parking Panda. The awards panel was very impressed by its LEED Gold recertification, and that it was the largest U.S. convention center to do so. Its dedication to sustainability is emphasized in its day-to-day operations. The LACC not only provides guest services training to all in-house staff, but also invites all employees to attend a guest speaker series focused on leadership. This commitment to professional development shows through its innovative approach to group training. The LACC's annual Capital Improvement Project is dedicated, in part, to security each year. In 2015, it installed more than 185 security cameras throughout the facility. It also implemented continuous education and training to keep its security at the highest level. The LACC participates in a community outreach and leadership development program through local schools, including the Young Storyteller Foundation and Read to a Child Lunchtime Reading Program. Its employees also volunteer to serve a Thanksgiving meal on L.A.'s Skid Row for those in need. The LACC's continuous involvement in community service projects proves it's passionate about giving back to the city of Los Angeles.
"All of us at the Los Angeles Convention Center are incredibly proud to have won the 2016 Venue Excellence Award and know this would not be possible without the unwavering dedication and hard-work of all of our talented employees," said Brad Gessner, CFE, general manager of the LACC and senior vice president at AEG Facilities. "Ultimately, our primary goal is to provide an exceptional facility and unparalleled services to our clients and attendees, while also being a good corporate citizen of L.A. We are very honored to be recognized for our efforts by our industry's leading organization, IAVM."
Performing Arts Center Winner:
Tobin Center for the Performing Arts—San Antonio, Texas
The Tobin Center for the Performing Arts demonstrated superior operational excellence in its first two years, and the awards panel gave it high marks on team building and professional development. The staff and managers have also utilized a collaborative effort to create and implement an emergency operations plan, training processes, and risk mitigation. It appears to be a plan that crosses all areas of the operations from outside support agencies all the way to volunteers. Its importance to the community is demonstrated by the diversity of its programming and the many organizations that now call the facility home. It recognizes that the bond to fund this project was passed by the voters and its commitment to free events and access to everyone demonstrates that. With the recent launch of its Generation Next Education Initiative, the Tobin Center is continuing the commitment to access for all and removing the economic barriers for all students.
"The Tobin Center for the Performing Arts strives to be 'Something for Everyone' and to create an atmosphere of operational excellence from customer service to patron safety and community involvement," said Sarah Fieger, CVP, house and volunteer services manager at the Tobin. "To be recognized by fellow venue managers as a venue of excellence amplifies our passion and drive toward further growth and improvement and to continue pushing boundaries and exceeding expectations."
Stadium Winner:
EverBank Field—Jacksonville, Florida
This year's stadium VEA winner has had many worthwhile accomplishments this past year. To name a few, it ranked in the top five in all eight categories of the NFL's Voice of the Fan Survey, ranking first in in-game enhancements and technologies. It is currently home to the largest video boards in the world. Sustainability is also top of its mind. EverBank Field instituted aggressive goals of diverting 40 percent of waste from the landfill on event days and reducing public utilities by 5 percent by converting to LED lights, efficient building automation, and installation of low-flush flow valves on plumbing fixtures. The NFL has also awarded it the highest ranking of one as its security ranking and its Back to Football Luncheon raised $100,000, which provides support to community efforts for children, families, women's health issues, and Jax military veteran community.
"SMG is proud to have the privilege of managing EverBank Field on behalf on the City of Jacksonville and to work in collaboration with the Jaguars to present EverBank Field to the highest of standards," said Bill McConnell, general manager of SMG Jacksonville. "SMG is thrilled at IAVM's recognition of the amazing work being done at EverBank Field, and it is just the beginning of an ongoing transformation in Jacksonville. We look forward to being a part of this great team for many years to come as EverBank Field and the City of Jacksonville continue to reach new heights."
Education & Service Award
The IAVM Education & Service Award recognizes member involvement through community outreach, education opportunities, mentorships, and internships that demonstrate excellence within our industry as well as giving back to the community. Some examples that have been shared include: active in high school programs and career development; offering internships for local college students within the company/venue; mentoring through community outreach or within a university setting; educational offerings to staff within the company/venue; community involvement with youth and young adults. IAVM takes pride in its members and member venues that excel in providing their communities with an enjoyable space for all types of events and educational opportunities. This award is open to university staff, professional members, faculty, Allied companies and individuals, as well as retired members.
Winner: Fair Park—Dallas, Texas
This year's IAVM Education & Service Award winner is committed to educating its staff, community, and current and future industry colleagues through its varied programs. Most impressive is the depth and breadth of educational opportunities it provides to its staff members on all levels. This year's winner also offers hands-on training for future industry professionals through its comprehensive 16-week college internship program and its participation in the Mayor's Fellows Program for high school honors students, offering them summertime job shadowing opportunities. It is also a very active participant in a variety of community groups and events, fostering local awareness of its facility and the industry.
Charles A. McElravy Award
Winner: Jimmy Earl, CFE, senior associate director of the Frank Erwin Center in Austin, Texas
The International Association of Venue Managers (IAVM) is pleased to announce Jimmy Earl, CFE, senior associate director of the Frank Erwin Center in Austin, Texas, as the recipient of the 2016 Charles A. McElravy Award. The McElravy Award, named in honor of one of IAVM's founding organizers, Charles A. McElravy, was initiated in 1963 and is granted for extraordinary contributions to the Association and the professional venue management industry it serves.
"Receiving this award is very special to me. To be recognized by peers is the highest honor one can achieve; however, it takes an incredible amount of support from many to accomplish this," Earl said. "I wish to acknowledge all who have helped along the way—family, mentors, staff, colleagues, friends, and countless others who have been so generous with their time, wisdom, and knowledge. I am humbled and grateful beyond measure to receive this award."
"Jimmy Earl, CFE, is a man with a giant heart and a giant passion for IAVM. He inspires me and so many of us in the industry each and every day," said Karen Totaro, CFE, the 2015-2016 IAVM Chair. "A huge highlight of my year as chair for IAVM was having the opportunity to advise Jimmy of the unanimous vote by the Board of Directors to extend the McElravy Award to him. Join me in a toast to one of our most esteemed colleagues, Jimmy Earl, CFE!"
(Images: Bruce Challgren)