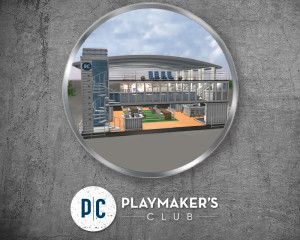 Before the Florida Gators take on the Georgia Bulldogs at EverBank Field in Jacksonville on November 2, a few hundred tailgaters will be the first to experience IMG College's new premium, portable Playmaker's Club.
The three-story bar/lounge/club utilizes decommissioned shipping containers and includes private restrooms, wi-fi, a "jumbotron" and LED TV's throughout. A shuttle takes patrons to and from the game, and visits from cheerleaders, mascots, former players and live entertainers appear to be in the mix. A Playmakers Club ticket is set at $500 for the Florida-Georgia game, and $800 for the BCS National Championship Game. (Take a virtual tour here)

In a recent
Sports Business Journal
article, Kelli Hillard, SVP of Events, Entertainment and Development for IMG College, alluded to the future possibilities for this hospitality concept. "It's unique to what's out there, especially in the college space. It's completely experiential for the client that's looking for music, entertainment, celebrities and a ticket to the game."
With three test games in the books for the 2013-2014 season, it will be interesting to see how premium experiences outside the venue integrate into the overall guest experience (and spend) happening on the inside.