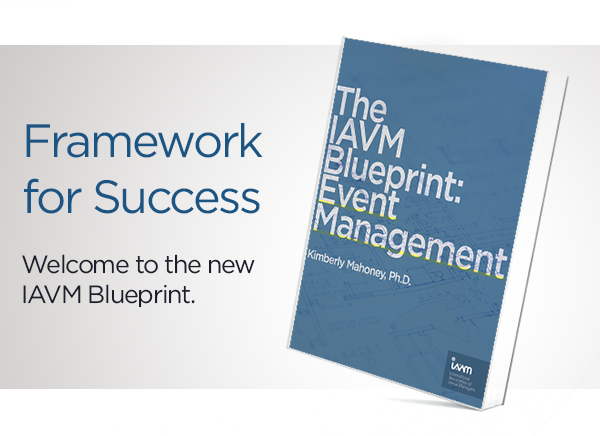 Managing public assembly venues is a complicated business. Venue professionals are coordinating detailed logistics in order to ensure smooth event execution and working to safeguard the lives of everyone in the building, all while delivering a memorable event experience. From the client's perspective, one of the most important things we can do is enable the client to focus on its event production. That is accomplished when venues are proactive and have an effective event planning process that allows them to be responsive to client needs.
IAVM's new reference series, The IAVM Blueprint, provides an in-depth exploration of topics fundamental to successful venue operations and is written for industry professionals. It is the first in the series explores the topic of event management within all types of public assembly venues and is designed to assist new event managers and serve as a resource for current professionals.
If you have a new event coordinator, an intern eager to learn, or another employee seeking opportunities for professional development, the blueprint is a perfect place for him or her to start. It provides the foundation for successful event management within public assembly venues. We discuss the overall event planning process, the foundations of effective event planning, a typical planning sequence, and address event planning tools and resources. We examine the event management process from both the front-of-house and back-of-house perspectives and address issues related to parking, transportation, event personnel, crowd management, safety and security, as well as a variety of miscellaneous potential event responsibilities. After completing The IAVM Blueprint: Event Management, your staff is in a better position to then learn how to implement these strategies and processes within a particular venue.
In addition, we compiled sample industry documents from a variety of venue types across the United States and internationally. Samples include event resumes, event staff information sheets, incident reports, pre-event checklists, post-event reports, staffing estimates, event contracts, and others. Samples were graciously provided from IAVM member arenas, convention centers, stadiums, and theaters. These samples are an incredible resource for those venues creating new processes and procedures or those simply looking for ideas to update existing documents.
Effective event management requires a cooperative effort and productive communication between all units of the organization. This new publication serves as a practical tool to assist new event managers with those important responsibilities and as an ongoing resource for industry professionals.
The IAVM Blueprint: Event Management may be ordered online at www.iavm.org/iavmblueprint.