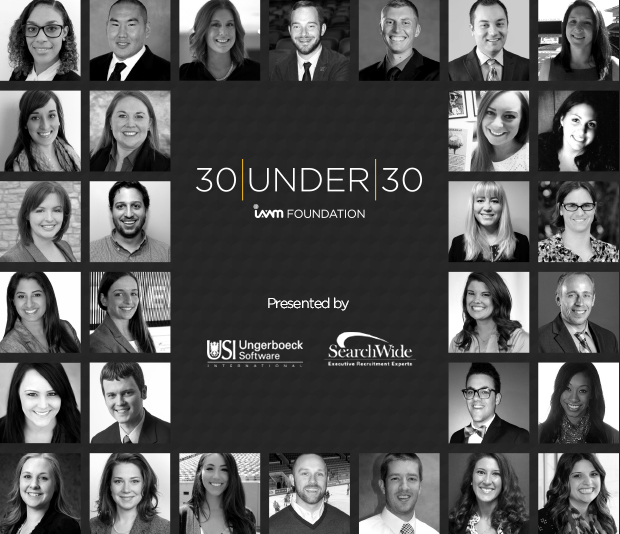 Thanks to the generous support of SearchWide and Ungerboeck Software International, 30 young professionals, 30 years of age and under, will receive full complimentary registration to VenueConnect in Baltimore, a travel stipend of $850, and a one-year complimentary Young Professional IAVM Membership.
"Identifying and developing future leaders is an important priority, and IAVM has stepped up to the plate in a big way with this initiative. Venue management is an exciting and challenging career path, and it is crucial we prepare this group for the complexities of leading this industry forward," said Mark Gnatovic, senior vice president of SearchWide and a Foundation Trustee. "Having access to industry education and industry leaders will create significant learning opportunities for these individuals. I'm looking forward to meeting the 2015 IAVM 30|UNDER|30 inaugural class."
In addition to over $2,000 in benefits, the 30|UNDER|30 recipients will be recognized at the Venue Industry Awards Luncheon at VenueConnect on Monday, August 3. They will also be provided year-round continued education for professional growth in the venue industry to help program participants become better, more productive employees through increased access and exposure to industry networking and thought leadership.
As part of the Build an Amazing Future campaign focused on students, young professionals, and mid-level venue management, the IAVM Foundation's Board of Trustees are thrilled to see this program come to life.
"On behalf of the IAVM Foundation's Board of Trustees and committed donors, we are honored to announce the inaugural 30|UNDER|30 class of 2015," said Jason Rittenberry, CFE, president and CEO of IRG Sports + Entertainment and chair of the IAVM Foundation. "We are truly building amazing futures for some of the top rising stars in the industry!"
Over the next few weeks, we'll individually spotlight this year's recipients. For now, let's meet the IAVM Foundation's inaugural 30|UNDER|30 class of 2015:
Natalie Barrow
Director of Arts Education & Community Outreach
Cobb Energy Performing Arts Centre
Sari Feinstein
Programming Assistant
Wells Fargo Center for the Arts
Derrick Palms
Executive Lead
Kennesaw State University Night Owl Productions
McKell Bennett
Assistant Marketing Director
Adams Center – University of Montana
Sarah Fieger
House & Volunteer Services Manager
Tobin Center for the Performing Arts
Nathaniel Porter
Senior Event Manager
BOK Center
Whitney Bishop
Marketing Manager
Richmond Coliseum, Carpenter Theater, Altria Theater
Joe Giordano
Booking & Marketing Manager
Santander Arena & Performing Arts Center
Brittanie Roldan
Director of Guest Services
Prudential Center & New Jersey Devils
Matthew Boring
Marketing & Sales Manager
Lied Center for Performing Arts
Jacquelyn Holowaty
Vice President, Ticketing
Global Spectrum
McKenzie Rowley
Premium Seating & Suite Sales Manager
NRG Park
Danny Bryant
Arena & Pavilion Services Manager
The Classic Center
Ashley Keen
Technical Director
Mesa Arts Center
Alicia Ruach
Event Operations Coordinator
Maple Leaf Sports & Entertainment
Jason Burnette
Sales Manager
Cox Business Center
Nikki Lekhy
Program Associate
Cultural Tourism DC
Annie Salamunovich
Assistant Production Supervisor
Portland'5 Centers for the Arts
Sandi Carretero
Operations & Events Manager
McLane Stadium
Sean Loyst
Assistant Supervisor, Events & Guest Services
Kitchener Memorial Auditorium
Jena Schaafsma
Assistant Director, Event Booking & Marketing
MetLife Stadium
Dani Cole
Sales Manager
Tacoma Dome and Greater Tacoma Convention & Trade Center
Siroun Majarian
Market Research Analyst
Massachusetts Convention Center Authority
Andrew Shreve
Assistant Box Office/Parking Manager
Greater Richmond Convention Center
Laura Doyle
Guest Relations & Event Security Manager
Chesapeake Energy Arena & Cox Convention Center
Kelsey Metzger-Covart
Sales & Events Manager
Ames Center
Abbie Vander Bol
Event Supervisor
Show Me Center
Bill Enkhbayar
Event Manager
Boardwalk Hall
Michael Owens
Director of Booking
BOK Center
Caitlin Volpe
Event Coordinator
AT&T Performing Arts Center