By R.V. Baugus
Gene Smith is in his 15th year as director of athletics at The Ohio State University. He is widely recognized among the leaders of his profession and has been named "one of the most powerful people in collegiate sport."
Attendees at this year's virtual VenueConnect will be able to hear Smith as he headlines as the Arenas Keynote Speaker.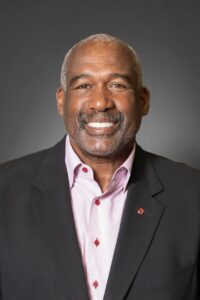 Smith leads athletics at an institution and in a Big Ten Conference which will be starting its football season soon and thus able to have a say in the final College Football Playoffs, as well as having one of the leading contenders for the Heisman Trophy in quarterback Justin Fields.
Smith's athletic department sponsors 36 fully-funded varsity sports with more than 1,000 student-athletes competing for Big Ten Conference and NCAA championships.
Smith has additional oversight responsibility for the Business Advancement division of Ohio State which includes: Schottenstein Center, Nationwide Arena, Blackwell Hotel, Drake Union, Fawcett Center, and Trademark & Licensing.
While gearing up for football and the myriad responsibilities on campus, Smith took some time to visit with us on a number of topics in advance of his keynote presentation.
May I ask the obvious at the outset about how important it is to have a football schedule starting up for the conference?
Its critical. First and foremost it's about our student-athletes. They have worked hard for the opportunity to play. They wanted a chance to play and we have created a safe process to allow them to play. For our community, all of Buckeye Nation, and the 11 states and 14 schools in the conference, this is a positive social activity for all of the students, alumni, and fans to support these programs.
How have your fans been assured that the conference-member stadiums are providing the best in safety and sanitization for them?
Some of the states in our conference have restrictions that make it difficult to host fans in their stadiums, so we agreed to be consistent across the conference and not host fans, even though some schools could safely. Only families of players, coaches, and support staff will be in attendance. We are adhering to all the protocols of distancing, masks, sanitation, and hand washing accessibility to ensure our fans feel safe and protected while they are in our stadium.
As it relates to Arenas in which you are speaking, how are things progressing for basketball at the Big Ten venues as they prepare for their season?
The conference is currently working on schedules that we hope to announce soon for our teams to compete. We will have 20 Big Ten games and teams will be allowed to play a total of 27 games total – 20 conference and 7 non-conference games starting 11/25. Consistent with the state and county regulations we are still determining whether or not we can have fans at our venues. We are comfortable at The Ohio State University that our facilities could safely host fans, be it the Schottenstein Center or Nationwide Arena. Our mechanical systems allow our facilities to create the positive air flow needed to create a safe environment. We will still follow all protocols of masks, distancing, reduced capacity, sanitization, and hand washing, etc.
Shifting gears now to the IAVM VenueConnect, what are some topics you plan to speak on for our venue members to hear?
Leading through the adversity that we are experiencing with the pandemic and the social issues we have been dealing with in our society.
You obviously have venue members on your campus, many of which are long-time IAVM members such Xen Riggs, Mike Gatto, and Colin Thompson, among others. Talk some about the critical role these individuals play as venues begin to reopen around the country.
We are blessed to have people like Xen Riggs and Mike Gatto and Colin Thompson and others who have many years of experience. Their understanding of how to run venues and their understanding of how to host entertainers or other groups and fans in our venues is a significant asset for us. Not everyone is fortunate enough to have the collective talent and expertise that we enjoy because of the people in those positions. They are leaders for us on campus, in Columbus, the state of Ohio and nationally. They have a strong voice in how to safely reopen our facilities and allow our events to return.
What are some takeaways that VenueConnect attendees can expect from your presentation and as they return to their own venues?
Most importantly, understanding people matter more than the facilities themselves. It is critical that in all spaces, through good times and challenging times, that we always keep at the forefront of every decision – people are the heart and soul of all that matters. Without our people we have nothing. Leading with integrity, collaboration, transparency, and being humanistic during these challenging times will help us get through this. And we will come out of this stronger and better for the experiences we have all endured and the challenges we have risen to overcome during this time.
In your mind's eye, what will the venues of tomorrow look like as fans attend in what will certainly look nothing like what they have been accustomed to?
One of the things we have done prior to the pandemic is to continue to enhance technology. Technology continues to emerge and our ability to respond and learn about whatever platforms or devices that emerge is critical. That is one of the benefits we have in our people; they are trying to always learn about those things and how we can better serve our fans and guests. At some point we will move past this. All of the measures we are putting in place now to improve safety and sanitation and the overall experience will help us create even better experiences for our guests in the future.