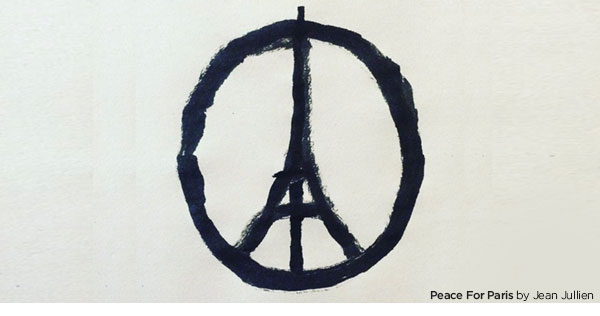 The International Association of Venue Managers (IAVM)—representing thousands of venue managers and partner companies in stadiums, convention centers, performing arts centers, arenas, racetracks, amphitheaters, and other public assembly venues—is deeply grieved by the tragic events that took place in Paris, France, on Friday, Nov. 13, 2015.
"As IAVM members, our hearts and best wishes are with our venue brothers and sisters in Paris as well as with all of the people touched by the tragic events experienced there," said Karen Totaro, CFE, chair of IAVM and general manager of the Atlantic City Convention Center in New Jersey. "As people who oversee a multitude of venues, much like Stade de France and the Paris Bataclan Concert Hall, we are reminded of the ever-growing need to continually assess, train, and prepare our teams and our community leaders to effectively reduce the opportunity for tragic occurrences in our own venues worldwide."
As details emerge of the attacks, specifically at the soccer stadium, we are learning that proper safety and security training helped save lives. Rest assured, the safety and security of guests, artists, teams, and venue personnel is always of absolute top priority for our community of venue managers. Together we work hard to maintain venues that are well prepared to address every issue that potentially undermines a safe and secure environment.
In response to the Paris attacks, IAVM has been communicating with the U.S. Department of Homeland Security and industry partners such as the Association of Professional Venue Management (A-PVM) in Belgium, to gather information and appropriate updates to keep the IAVM community informed.
IAVM Webinar and Resource Site
A new webinar, Smart Practices for Venue Managers After the Paris Attacks, has been scheduled for Friday, November 20, at 10 a.m. CST (UTC -6). This webinar will only be available to IAVM members and will include presentations from the U.S. Department of Homeland Security; Scott McCartney, project director of the Large Stadium Initiative with the California Governor's Office of Emergency Services; John Siehl, CFE, chair of IAVM's Academy for Venue Safety & Security (AVSS); and our partners at A-PVM in Europe.
For more information on the webinar, and for resources and articles related to the Paris attacks, a resource page has been built on the AVSS website.
AVSS 2016
In 2004, IAVM created the AVSS to be an intense training academy focused on security training and life safety management for the public assembly industry. The 2016 curriculum, developed by an expert faculty of experienced venue managers and industry leaders, equips attendees with information, tools, and methodologies to protect guests, customers, employees, property, and assets through risk identification, implementation of risk management practices and procedures, emergency planning, preservation of economic viability, and facilitation of recovery.
"Not every facility may face domestic or international terrorism," said John Siehl, CFE, chair of AVSS, "but they do all face emergencies and incidents that the 'all-hazards' approach of AVSS training prepares them for."
An overview of the core curriculum for AVSS is available in FM online, and more information about AVSS 2016 (February 21-25, Dallas, TX) is available at iavm.org/AVSS.
Live Venue – Live Training
In September 2015, IAVM piloted an in-venue training program at the Curtis Culwell Center (Garland, TX) and the American Airlines Center (Dallas, TX). This new, onsite program delivered Trained Crowd Manager Live, Active Attacker Preparedness, and Situational Awareness Training to hundreds of venue personnel in a live, interactive learning environment.
"This new format for life safety training is tremendous, and it enables entire venue teams to receive comprehensive training covering three major components of their safety and security preparedness," said Mark Herrera, IAVM's director of education. "The feedback that we received during our pilot sessions was extremely positive, and we anticipate this new program being a great addition to the training happening in venues."
IAVM anticipates making the Live Training available in early 2016, though interest can be shared directly to the IAVM Education Team to ensure early participation.
The Future of the Venue Industry
It is hard to overstate the joy, excitement, and positive impact of the events, concerts, matches, games, competitions, meetings, performances, and experiences happening at our venues.
As Bono commented to Rolling Stone after their Paris performance was canceled a few days ago, this attack is significant and will require action, but it is not the final word.
"Music is very important," Bono said. "I think U2 has a role to play, and I can't wait till we get back to Paris and play and that's what I'm feeling from the messages we're receiving from music fans is these people will not set our agenda. They will not organize our lives for us.
"The feeling of Madison Square Garden [their concert after September 11, 2001] was just unbelievable and the feeling was just this is who we are, you can't change it …" Bono continued. "You're not going to turn us into haters or you're not going to turn us around in the way we go about our lives. That was the feeling of Madison Square Garden back then, and I hope that will be the feeling at Bercy when we get back there."
Behind the stage, off the field, in offices, before—during—and after each event, in cities and communities around the world, venue managers are working hard to deliver memorable, successful, safe, and secure events day after day—night after night.
"With AVSS 2016, GuestX, Severe Weather Preparedness, and now our Live Training that will be debuting shortly, IAVM remains fundamentally committed to equipping and training venue managers and professionals with the latest resources, knowledge, and connections needed to ensure that, as the venue industry, we are prepared for every threat, hazard, and emergency we face," said Vicki Hawarden, CMP, president and CEO of IAVM.