By Ashley Gravois
Jerry MacDonald, who has served as President and CEO of The Cynthia Woods Mitchell Pavilion since 2003 and has transformed the venue into an internationally recognized cultural and entertainment destination, has announced that he will be stepping down in March 2024. Until then, he will remain in his current position to ensure a smooth transition to new leadership. The Pavilion's Board of Directors will be launching a national search for his replacement in the coming months.
"The Pavilion is in a very strong position now — financially stable, with all the pieces in place for the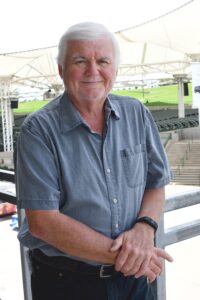 future. I am so proud of all that we've accomplished collectively, building The Pavilion as a vital and beloved institution in The Woodlands and beyond as we fulfill our mission to engage and inspire the community through live entertainment," said MacDonald. "It has been an honor to lead this organization for as long as I have and I look forward to seeing the venue continue to grow for many, many years to come."
MacDonald presided over decades of growth and change at The Pavilion, including its full rebuild and expansion after Hurricane Ike devastated the venue in September 2008. Under MacDonald's guidance, the venue undertook the most ambitious construction project in history. In an unbelievable 160 days, The Pavilion reopened its gates with Dave Matthews Band on the Main Stage and a new roof that had been expanded almost 2.5 times, increasing the number of covered seats to over 6,000. Years later, MacDonald shepherded the organization through the COVID-19 pandemic where he was able to maintain all full-time staff and emerge in solid financial shape. As a result, The Pavilion was able to continue its mission work, remain largely open and – perhaps most importantly – present a diverse and star-studded season.
The Pavilion has consistently earned a spot among the top ten amphitheaters in the world from leading industry publication, Pollstar, based on audience attendance. Most recently, The Pavilion ranked second in the top 100 amphitheaters in the world based on the number of tickets sold in 2022. Ranking in the top ten amphitheaters 18 times and in the top five amphitheaters 12 times, MacDonald has been at the helm of welcoming more than eight million guests to the venue and introducing them to the power of live entertainment.
In addition to driving economic development through many seasons of exemplary live entertainment, MacDonald's leadership has made a significant impact on the infrastructure of the venue including the
building of The Pavilion's Event Center with an indoor Ice Rink (making it the first venue of its kind to offer an ice rink on property), the rebuilding of the Woodforest Bank Club and a new Operations building featuring an extended loading dock. These new facilities, along with a wide variety of other capital improvement projects throughout the last two decades, not only have enhanced guest and artist experiences onsite but have provided an exceptional backdrop for future concerts and events.
"Jerry's 20-year tenure at The Pavilion has seen remarkable achievement. His leadership and commitment have been hugely instrumental in making The Pavilion the incredible success it is today. From being $10 million in debt when he assumed his role, to funding an endowment that now tops $50 million, Jerry has been an outstanding steward of the organization," said Roger Nicholson, Chairman of The Pavilion's Board of Directors.
In addition to his storied career, MacDonald has forged strong relationships with the community, sponsors and key partners, most notably in his roles as a founding member of The Woodlands Waterway Arts Festival, an ex officio Director of The Woodlands Chamber of Commerce and an honored member of George's Coffee Club. which was founded in honor of George Mitchell.
When MacDonald arrived in March 2003, he brought with him over twenty years of senior management experience in operating a variety of entertainment venues. As vice president and general manager of Houston's Summit/Compaq Center, he oversaw the 17,000-seat arena and managed the facility during its most profitable years. Prior to Compaq Center, Jerry was an instrumental part in the opening of three venues from the ground up – Ocean Center in Daytona Beach, Florida; Miami Arena in Miami, Florida; and, The Pyramid and Mud Island in Memphis, Tennessee. Jerry served as vice president and general manager of The Pyramid and Mud Island, (1990-95), Miami Arena (1987-90), Ocean Center (1983-87) and Lakeland Center in Lakeland, Fla. (1976-83). Jerry also proudly served as general manager for two NBA arenas for the Miami Heat and the Houston Rockets. Jerry is a graduate of Florida Southern College in Lakeland, Florida. He and his wife, Tricia, have two daughters, both graduates of The Woodlands High School and four grandchildren.
MacDonald's 48-year career in the entertainment industry as well as his ongoing commitment to The Woodlands community will be honored in the coming months.
Ashley Gravois is Public Relations & Education Outreach Manager for The Cynthia Woods Mitchell Pavilion.