By R.V. Baugus
It will be full steam ahead when moderator Maureen Andersen, President and CEO of the International Ticketing Association (INTIX), poses questions to industry icons Adina Erwin, CVE, and Kim Bedier, CVE, in an Arenas Ticketing session at VenueConnect appropriately called Ticketing Today – Full Steam Ahead! The session takes place on Wednesday, July 20 from 10:15 am – 11:15 am at the Phoenix Convention Center.
While the lights were out, we were changing, reads a description of the session. We don't get to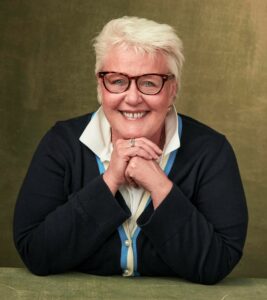 go backwards and who wants to anyway, but we do get to use the experiences to inform our future. This panel will explore the realities of our normal today, what we are challenged with, what is exciting, and where we are going. We'll also dive into how we are reinventing and invigorating ticketing with technology, data and a new mindfulness and attention to our customers, fans, and patrons.
Against that backdrop, it was only fitting to catch Maureen before everyone heads to Phoenix for the industry's premier conference and trade show. We want to see you there and we especially want to see you this interactive presentation.
RVB: Off the bat, how about some background and expertise in the field in which you are presenting?
Maureen: I've been around more than a little while. I've spent all of my career, 40 years this year, in some form of ticketing. I've sat in the ticket chairs in organizations and venues across the market spectrum from not for profit performing arts to rodeos; to technology implementation to sales; to the big chair at INTIX now for six years. For the past 2+ years I have had the greatest honor of all having a front row seat to watch, participate, and facilitate ticketing pros around the world as they heroically navigated the shutdown and shuttering to the slow re-opening to adjusting and flourishing today with a changed business.
RVB: Give us some detail and insights about your presentation. Without giving away the kitchen, what will be some of the things you will share with your audience?
Maureen: We have enough topics for a couple of days of conversations. It won't be a "pandemic" ticketing presentation but rather a walk through who are we now, what did we learn, what do we need, what opportunities are just waiting to be explored, what is causing us angst. Of course, we'll also talk about pricing, no-shows, data, great experiences, customer service, and digital.
RVB: You have a couple of industry power players in Kim Bedier and Adina Erwin you will be interviewing. What will some of that be about?
Maureen: I'm the president of these two ladies fan clubs and can't wait to explore their grit and their experience. Think about it, Adina changed jobs and implemented a new ticketing system and some of the first in the nation tech for COVID safety all during a pandemic. Kim changed jobs, moved and took on a big, big project in the middle of a pandemic. That's experience and knowledge that is invaluable because they are leaders who were boots on the ground leading us to the new normal.
RVB: How about a main takeaway you would like people to leave with and take back to the venue where they work?
Maureen: The event, the ticketing, the venue, the experience, and most certainly the customer has all been changed by the shared experience of a pandemic. We don't get to go back to the "before times" and that's ok. We needed a reset anyway. We all have such a great opportunity to harness the energy and the shared and learned experiences to new action and new experiences. These ladies and this presentation will show how it can be done, how we unleash the power of "yes" and that we are all linked in this industry ecosystem now!
RVB: Lastly, how about those who have collected ticket stubs from concerts and sporting events going back to the 1980s. Do we ever get to harbor any hope for the return of those old-fashioned hard tickets or has that ship sailed?
Maureen: That ship hasn't exactly sailed but the ship has changed. There will always be an audience of fans who want to collect a ticket or a memento from events because it's an emotional experience, but each customer is different in how they collect. Think of this way: You have a boat that can run on sails yet has an engine but also has some oars just in case. They are all the tools to make the sailing experience work. Same thing in ticketing. The options are just broader now and good venues and orgs provide the experience the individual event sailor wants. Printed, digital, NFT, and beyond are all options now.
One last word. Back in the "before times" this industry was stuck in silos both at a macro and a micro level. The conventional wisdom was "stay in your lane" both from an event vertical perspective and internally. Arts is arts, sports are sports, venues are venues. Then the marketing is here, ticketing over here, facility management around the corner, technology over there, sales somewhere else. The truly remarkable happened during the "dark ages" when literally no one knew what was right, wrong, best, or had an answer. Collectively we had to rely on each other and come together to solve the problem, to turn on the lights, and open the doors. We've had to learn together. This opportunity still exists and we're still learning. As we come to the end of postponed shows on the books, we're going to get a new learning curve and a new moment of shared enlightenment. We still need each other to learn what's next.