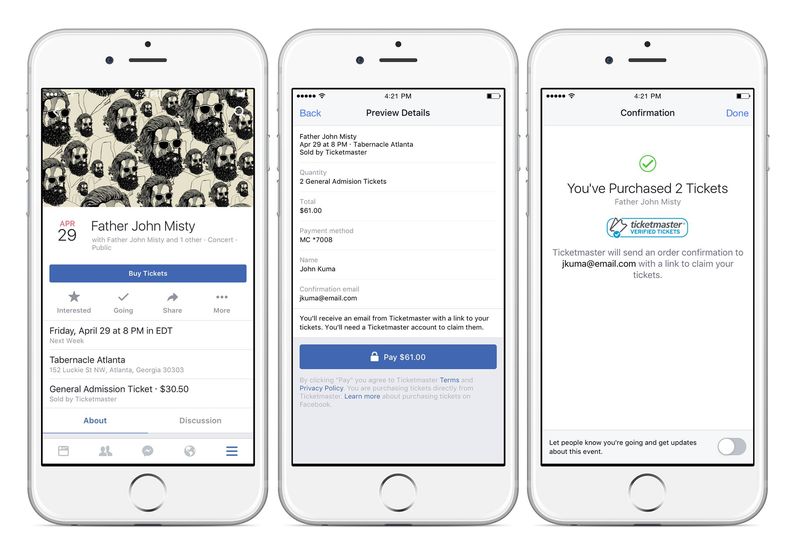 Score another win for Facebook. By the end of the month, Ticketmaster will start selling tickets directly on the ubiquitous social media site, as reported by Buzzfeed News.
"By putting the ability to buy tickets directly within Facebook we hope that we're going to provide a more seamless purchase experience and sell more tickets," Dan Armstrong, VP and general manager of distributed commerce at Ticketmaster, told BuzzFeed News.
Facebook will receive an affiliate fee from Ticketmaster when a ticket is purchased on the site. However, tickets still have to be "claimed" on Ticketmaster's website or app.
"Millions of people on Facebook connect with their favorite bands, artists, and causes to find out about events happening in their community," a Facebook spokesperson told Fortune. "We've heard feedback from venues and artists that Facebook is an important platform for them to update and connect with fans. We're excited to help partners like Ticketmaster sell more tickets via Facebook and to make ticket purchasing easier and faster for people."
Concerning Eventbrite, no affiliate fees will be collected by Facebook when Eventbrite tickets are purchased.
"We are committed to innovation that helps event organizers sell more tickets," Eventbrite VP of Product Laurent Sellier told Buzzfeed News. "Enabling a seamless purchase experience for consumers in places like Facebook where they are spending significant time is an important step in this mission."
(Image: The Verge)