Think TicketsWest and you have to think of Jack Lucas, founder of the Spokane, Washington-based company in 1987. Thirty years later, Lucas said that while his zeal and passion for the business remain, the timing was right to pass the presidential torch to Dusty Kurtz, who assumed leadership of the company on March 26.
"When we started TicketsWest in 1987, we had a goal to be the best ticketing company that we could be," Lucas wrote in an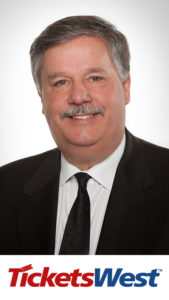 email to close industry colleagues. "As I now reflect back on 30 years, and realize the significance of where we started and where we are currently at in our history, I am thankful for the many team members, both current and those in the past, that have helped to make TicketsWest into a national brand, and one of the premiere full service/full enterprise ticketing solutions in the United States.
"I am so fortunate that for the past 30 years I have had the great joy of being part of this history. To this day, I still enjoy and look forward to walking through the front door each and every day. I must confess, after 30 years, I still love what I do, and still have a passion for my work.
"But after 30 years, there comes a time when you have to pass the torch on to someone else, and let them lead and create the vision for the next 30 years. I have finally made that decision."
While announcing the promotion of Kurtz, who had served as the company's vice president since 2010, Lucas said that he will remain as president of WestCoast Entertainment.
"Dusty has had a great career with TicketsWest and has worked alongside me as my vice president for the past several years," Lucas said. "I can state without reservation that Dusty is ready to take TicketsWest to the next level. Dusty is ready to create the vision and the strategy to position TicketsWest for the future. There isn't anyone that I would want to have lead TicketsWest than Dusty Kurtz. He is honest, forthright, a hard worker, and provides all of the skills and experience needed to lead TicketsWest."
Lucas said that he looks forward to devoting more time to WestCoast Entertainment and to expand the business into other regions while growing the business into a more recognizable national brand.