From Tixly
Tixly announced a new partnership with the Heymann Performing Arts Center, the company's first client in North America. The partnership with Tixly as their ticketing & CRM platform will begin in December.
Heymann Performing Arts Center opened in 1960 in Lafayette, Louisiana and is an auditorium which offers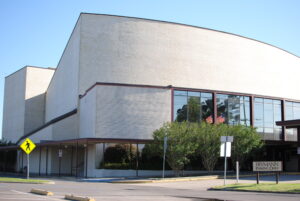 internationally renowned performances. It has served the people of Acadiana, a prominent region in Louisiana, for over 50 years and is the home to Broadway musicals, popular concerts, symphony, theater, and more.
The Heymann Performing Arts Center is a 2,200-seat proscenium theater with an adjoining 16.000 sq. ft. Convention Center. The Convention Center comprises two ballrooms that can be used independently or as one great hall. The Convention Center has three additional meeting rooms and a full-service kitchen. Heymann welcomes over 100,000 ticketed visitors annually and hosts over 100 events each year.
"We are excited to be the first in the U.S. to partner with Tixly to provide elite ticketing services to Acadiana," said Brian McGrath, Arts & Culture Manager at Heymann Center. "Tixly shares our vision of elevating the guest experience by enriching customers' journeys through innovative technology and modernizing the ticketing process. This partnership offers customers added levels of convenience and optionality, allowing them to buy tickets in a way that saves time and reduces the need for paper ticketing."
"Tixly offers a great alternative to other systems," added Dennis Skerrett, Venue Administrator at Heymann Center. "We were impressed by the Tixly platform's ease of use for both employees and customers alike by providing powerful features at a great value. We found that Tixly offered our venue much more control over branding, sale parameters, and revenue streams. And with Tixly, that revenue lives in our own bank account, earning interest."
Venue Box Office Coordinator India Roberts Filer said, "When we began researching ticketing companies, we wanted one that was user friendly for our patrons, simple to learn for our staff, and one that offered quick and genuine support. Tixly is that and so much more! Heymann Performing Arts Center values its patrons. We aim to keep them happy, comfortable, and coming back to visit us. Tixly's hands-on support team and easy-to-use system guarantees the best experience for Heymann Performing Arts Center's loyal patrons."
"We are proud and excited to start this partnership with the team at Heymann Center," said Tixly US Operations Manager Aren Murray. "The fabulous staff and the organization's focus on creating a pleasing sales flow for their customers fit perfectly with Tixly's business model. We are grateful for the opportunity they've given us to help them achieve their goals."
"The partnership between Tixly and Heymann Center is extra special for us at Tixly as Heymann Center is our first client in North America. I am thankful and truly couldn't think of a better fit as a first client. The collaboration has so far been characterized by joy, trust, and excitement on both sides and we look forward to continuing on that journey together," said Hrefna Sif Jónsdóttir, Managing Director at Tixly.
"As part of Tixly's standard implementation past patron account activity, including barcodes, will be integrated for Heymann, allowing administration and patrons to obtain their ticket history, barcodes, and account details quickly and easily. Simplicity in use, even during the process of switching systems, is our method of operation. Creating a seamless transition to the Tixly system for Heymann's guests who have already purchased tickets for the spring events is key. In other words, guests will be able to use the tickets they bought before the ticketing system switch as well as tickets purchased after the switch to gain admittance with no additional steps. It's the Tixly way, simply innovative!" concluded Hrefna Sif Jónsdóttir.