By R.V. Baugus
Since 2014, Todd Hunt, CVE, has served as an instructor at IAVM's Venue Management School. He has had an opportunity over those eight-plus years to hear other's names called as recipients of the prestigious Ray Ward Award, so named after the father of industry professional development, Ray Ward. You may now add the name of Todd Hunt to that impressive and decorated list of winners.
For the past two years, Hunt has served as senior vice president at Venue Coalition, a live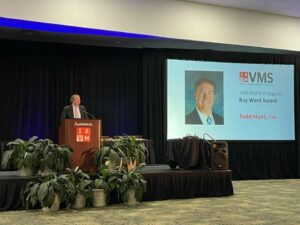 entertainment consulting company focused on booking artists, Attractions, and touring productions in arena and theater venues.
Hunt, who for most of his career is known as a venue professional in his beloved home state of Mississippi, expressed both surprise and gratitude when his name was called in early June at IAVM's VMS at the Saddlebrook Resort near Tampa, Florida.
"I was certainly surprised yet very honored to receive this year's Ray Ward Award," Hunt said. "To be recognized for my contributions to education within our industry is a remarkable feeling. As a second-generation venue manager, this industry means a tremendous amount to me.
"I also come from a long line of educators, so teaching at VMS is something that is truly in my blood! It's quite an honor to be included with the legends who are previous recipients of the award."
Save for a couple of years early in his career when Hunt worked at the UTC Arena at the University of Tennessee at Chattanooga, his home has been in the Magnolia State of Mississippi first at the Tupelo Coliseum followed by an almost eight-year stint as Director of Humphrey Coliseum and Athletic Concessions at Mississippi State University (where he earned his B.B.A. in Management and to this day is one of the most ardent Hail State supporters). From there it was on to BancorpSouth Arena and Conference Center once again in Tupelo before moving on to Venue Coalition.
Hunt also earned an M.Ed. in Educational Leadership from the University of Mississippi, so the role of education is obviously important in his life and career.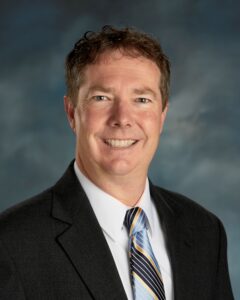 "I first attended VMS as a student in 2006 and began my teaching career in 2013," he said. "I joined the Board of Regents in 2015, served as the VMA exchange instructor teaching at the Australian school in 2016, was selected to go through the leadership chairs in 2017, and served as chair of the school in 2019.
"Being selected to join the faculty ranks alongside many of the same instructors who taught me just a few years prior was a dream come true. Now to receive the Ray Ward Award? Truly a fantastic feeling!"
Hunt went on to acknowledge the greatness of Ray Ward while also thanking those who have propelled him in his distinguished career.
"Ray may have been small in stature, but he was a giant in the industry," Hunt said. "His dedication to VMS and to lifelong learning set a great example for us to follow.
"I certainly wouldn't be in this position without the support of my family, who have graciously allowed me to spend a week each year at the school. And Michael Marion and the late Terry Butler were the two venue managers who encouraged me to give back to the industry. Teaching at VMS is one of the most fulfilling things I have done in my professional career."
That fulfillment is now capped by receiving the highest honor given by VMS.