By Tom Cornwall, CVE
As I write this we have seen 68 days dawn in the BUBBLE created for the Edmonton hub for the NHL Hub City Tournament.
Four nights ago the NHL crowned the Dallas Stars as the Western Conference Champions and last night we crowned the Tampa Bay Lightning as the Eastern Conference Champs.
Tonight is the eve of Game 1 of the final round to crown the 2020 Stanley Cup Champion.
The Western and Eastern Champions will battle in a best of 7 series to claim Lord Stanley's Cup.
Some say this is the hardest Championship to win in all of professional sports and it has been said recently that perhaps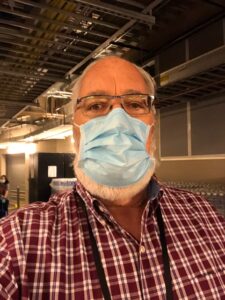 this year's Championship will be the hardest to win of all times since it's been done all in a bubble under the constant threat of COVID 19.
About 60 days ago we welcomed twelve teams to each of the Edmonton and Toronto hubs to become what has lovingly been called Bubble Hockey.
Through the dedication of a few hundred NHL management/staff, third party contractors and the hockey teams we have managed to survive the ups and downs of living 24/7 in the bubble.
Daily nose or throat swabs, wearing masks 24/7, sanitizing/washing hands constantly, hotel/arena food and Skip the Dishes, Pickle Ball tournaments, golf simulators, only FaceTime/Zoom or cell phone contact with family and friends, has become the way of life accepted by all in this Bubble world we created. Hockey without spectators took some adjusting to but the NHL has done a great job to create the "home arena" atmosphere as best possible with their graphics and audio/video production.
Two weeks ago the remaining two teams in Toronto joined the remaining two teams in Edmonton for the right to crown the Eastern and Western Conference Champions and do battle for the right to lift Lord Stanley's Cup and the honor of becoming the 2020 Stanley Cup Champions. Within a few days the champion will be crowned and the teams and 90 percent of the staff will depart the next morning to reacquaint themselves with life outside the bubble. For a few of us, bubble life will continue for a couple extra days as we dismantle the production, pack away the sanitization equipment/supplies, dismantle fences, write the reports and "Pop the Bubble" that has been our home for nearly 80 days.
Twenty four became four and then there were two.
SOON THERE WILL BE ONE BUBBLE HOCKEY SURVIVOR!
Tom Cornwall, CVE, is Hub City Compliance Officer and with Oak View Group/Prevent Advisors.