By Tom Cornwall, CVE
I retired from Oilers Entertainment Group in December 2019 after a great 47-year career in sports/entertainment and was fortunate to have been in several unique roles and be involved in several once-in-a-lifetime events along the way. My wife, Betsy, and I had planned for 2020 to be an awesome year of adventures and travel to celebrate our retirements. And then the pandemic hit and changed all that. And instead of travel, 2020 found us living a life of self-imposed isolation at our lake property an hour south of Edmonton. After four-plus months of pretty well exhausting the 'Honey-Do list' and wondering what I was going to do to occupy my time, the phone call came and I wouldn't have to worry any longer what I was going to do, at least for the next several months.
A good friend, Doug Higgons, from Oak View Group, called and asked if I would be interested in helping his team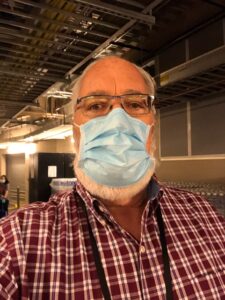 with a National Hockey League contract to manage the security and hygiene protocols for their Return To Play Hub Cities Tournament to award the 2020 Stanley Cup. Edmonton and Toronto were to be the chosen hub cities and he knew I would be a great asset to their team because of my previous experience with the NHL, living in Edmonton and just retiring from OEG after helping build and operate Rogers Place. Doug explained that the NHL was creating a secure bubble and I would need to physically move my life into the bubble for the next 80 days if I was to be a part of this project. It didn't take much persuasion to say YES to another once-in-a-lifetime major project. It did take a little convincing Betsy that she would be OK for the next 80 days taking on ALL the household chores and only communicating with me through FaceTime for that whole time.
So on July 14 I joined members of Prevent Advisors, a division of Oak View Group, in Edmonton and we began working with the NHL to create and secure 'the bubble.' The OVG Edmonton bubble team is a group of six whose role is to work with the NHL staff to build and secure the bubble and ensure the health/safety/security/hygiene protocols are adhered to by all who work/live in the bubble for the length of the tournament. We have five Compliance Officers and a Facility Hygiene Officer who work hand-in-hand with NHL Legal/Medical to implement and monitor the protocols. OVG also has a similar team in the other hub city of Toronto doing the same thing there. IAVM member Frantzer LeBlanc is a member of that team.
The hub city concept is for 12 NHL teams to reside/play hockey inside a secure bubble and to eventually crown the Stanley Cup Champion in early October at the end of the tournament. Twelve Western Conference teams are in Edmonton and 12 Eastern Conference teams are in Toronto. The quarterfinals and semifinals are played in each hub city and then the two remaining teams in Toronto will move to the Edmonton bubble and complete for Eastern/Western Conference Champions and then those two teams will compete for the Stanley Cup.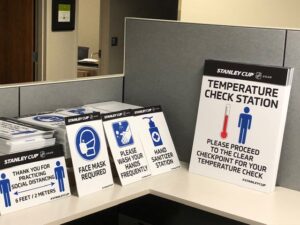 Toronto's bubble is a bit different design but the Edmonton bubble is literally a secure fence connecting three hotels and ROGERS PLACE arena and Scotia Place Plaza in Ice District in downtown Edmonton together creating a secure path from one property to the next over about 3.5 city blocks. Inside the bubble are the people responsible for putting on the tournament, the teams participating, and the medical and security teams responsible for keeping everyone safe. With few exceptions for some hotel and contractor staff everyone with an essential role is virtually locked in the bubble 24/7 until the tournament is over. We work, eat, and sleep inside the bubble for approximately 80 days when the Stanley Cup will be awarded. There are about 650 hockey players, staff, and management plus about another 300 NHL staff/contractors and hotel/arena staff involved in the Edmonton bubble. Toronto has a similar number.
Through amazing cooperation from city, Provincial, and Federal governmental agencies, the NHL was able to reach agreement to have the two Canadian cities host this tournament. Anyone inside the bubble undergoes COVID testing and there are very stringent quarantine and contact tracing protocols we follow should anyone test positive on any given day. After 18 days and a few thousand tests, we don't have any positive test results in Edmonton. This is largely due to the hygiene protocols OVG and the NHL have put in place. EVERYONE wears a mask except when in your hotel room or at meals, no exceptions. Some 200-plus hand sanitizers plus disinfectant sprays and wipes have been placed strategically throughout the bubble so that whether you are walking the path to/from the hotels or in the hotel or arena there is sanitization equipment within easy reach. Everyone has been issued personal packets of wipes and hand sanitizer and signage everywhere reminds all to wash hands regularly and properly, to practice social distancing, and always wear your mask. The only time the mask isn't required is when the hockey players, coaches, and officials are on the ice for the practices and games. Otherwise NOBODY is exempt from wearing a mask at all times.
After twelve days of helping my team and the NHL staff build all the fences, distribute all the sanitization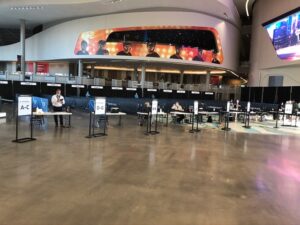 equipment, hang all the signs, and set up all the hockey equipment in the locker rooms, weight rooms, team medical spaces, and set up the COVID testing facilities, the twelve hockey teams arrived in Edmonton and entered the bubble to begin practice and participating in the tournament. My role as one of the Prevent Advisors/OVG Hub City Compliance Officers is to make sure the security is in place to ensure no unauthorized person enters or leaves the bubble, ensure all sanitization equipment is always in place, filled and available for use, ensure everyone gets tested every day, and ensure compliance with the hygiene protocols established as part of the NHL Phase 4 Return to Play Protocols agreed to by the NHL Players and General Managers. We literally walk the hotels, fence lines, outdoor patio spaces, arena, and restaurants to ensure there is enough sanitization supplies and that people are wearing masks and following proper social distancing protocols.
Today, August 7, was the start of the elimination games and most of us have been in the bubble for 24 days and have 58 more to go! Another once-in-a-life event opportunity that I am proud to be a part of.
To see a video on NHL life in the bubble, click here.
Tom Cornwall, CVE, is Hub City Compliance Officer for Oak View Group/Prevent Advisors.