By R.V. Baugus
Tom Powell, most recently known as the news ambassador for the Outdoor Amusement Business Association (OABA) but forever remembered as a writer, editor, and associate publisher for Amusement Business magazine, has died at the age of 86 following complications from a fall that he took last week.
"Tom's dedication to the outdoor amusement industry is beyond words," Matt Cook wrote from OABA in announcing the news. "Tom's dedication to the outdoor amusement industry is beyond words. There will be no one who can replace his weekly columns that touch the lives of so many in our industry."
Tom was a devoted friend to IAVM and in Association circles is remembered for his ongoing dedicated involvement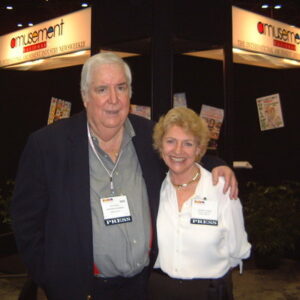 with the IAVM Foundation and more specifically in years past a softball tournament that was held during the VenueConnect annual conference and trade show to help raise funds for the Foundation to help support industry programming and research. He also was honored in 1995 as the fifth recipient of the Joseph J. Anzivino Distinguished Allied Member Award, a nod to his service as a Foundation ambassador, supporter, and fund-raiser.
"Tom taught me much of what I know about this wacky industry we all love and cherish," said Brad Mayne, CVE, president and CEO of IAVM and another lifelong supporter of the Foundation beginning with his days as a venue manager. "Friend, mentor, fellow baseball fanatic, one of a kind."
Linda Deckard and Don Muret are two industry friends most associated with Tom from his days at Amusement Business from when he first joined in 1972 after an earlier career as a sports writer for The Tennessean. AB covered sports, venues, entertainment, fairs, carnivals, and so much more, but it was always Tom's "On The Earie" column that so many looked forward to reading until the magazine folded in 2006 after a 112-year run. He wrote his last column under the same name for OABA on January 15. To read Tom's last work, click here.
Before there was an electronic inbox, the tray on the corner of one's desk was known as an inbox, and Amusement Business and Tom's handiwork was always much anticipated by readers for its folksy delivery written as one friend sitting across a desk and chatting with a buddy.
"It's a sad day for the sports and entertainment industry," Muret said in a Facebook post. "I worked with TP for 10 years and knew him since 1993. He was my friend and mentor. Taught me a lot about the biz. We both love baseball and could talk about it for hours. RIP big guy. Thoughts are with Christine Powell and family."
Linda Deckard would go on to start her own magazine, Venues Today, but also reflected fondly on her AB days.
"I started two or three years after Tom," she said. "He was really the first to report on venues."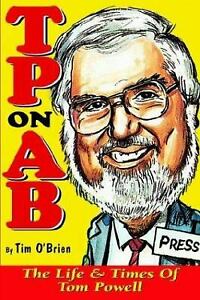 It is not often a book is written about a writer, but former AB Senior Editor Tim O'Brien did just that in TP on AB: The Life and Times of Tom Powell.
Even those who competed in Tom's space could not help but have admiration and form a friendship with him.
"Even though we were at competitor publications, Tom was always a true gentleman to me, a good friend and mentor," Michael Caffin, International Association of Fairs & Expositions (IAFE), said in a tweet. "There will never be another Powell, a true giant and great man."
"I am very sorry to hear this," said Steve Zito, CVE, general manager of the Alamodome in San Antonio. "He was a great man with a wonderful legacy. I remember playing in the annual IAAM softball game with Tom and Earl Duryea for years."
Zito was also one who was excited each week when his Amusement Business magazine arrived.
"AB used to be our industry bible," he said. "Everything we needed and wanted to know was in there. I too could not wait for it to be delivered."
"I first met Tom early in my arena career in the 70's and loved to get the weekly AB to read all the good news across the entertainment industry," Carey Harveycutter, director of tourism in Salem, Virginia, added in a post. "Prayers ascending for Christine and Tom's family and friends. He was truly one of a kind. Well done good and faithful servant, you are now at peace."
For all his talents, accomplishments, work with the IAVM Foundation, and more, Tom was truly a reporter's reporter, a fount of information who could help not only fellow reporters but those in the industry in which he worked, which at the time of his passing focused on fairs and outdoor amusements.
"We always waited for the "Billboard' to arrive on the midway," said Gina McCulley of Mexico, Missouri, in a post. "Tom's column kept us informed of births, deaths, and show happenings … this was our 'cell phone.' Rest now with no deadlines to meet."
Another close friend, Bob Johnson, now retired after serving as president of OABA, concluded, "Having known Tom for some 45 years, both professionally and socially, the amusement industry has lost one of its greatest contributors."
As has the public assembly venue industry and so many more who came to know and love Tom Powell.
Funeral arrangements are pending and will be shared as soon as known. We will also have more coming up from individuals who knew Powell's work and life the best.