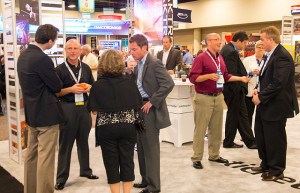 VenueConnect, IAVM's annual conference and trade show, is a must-attend event for exhibitors targeting venue managers from the complete range of venue types. Our Allied community probably already knows about most of the benefits and access available to VenueConnect exhibitors, such as the local NOLA entertainment at our one-of-a-kind, high-energy trade show; a QR Code scavenger hunt that brings venue professionals directly to your booth; DirectConnect, a hosted buyer program connecting exhibitors to pre-qualified buyers in one-on-one meetings; complimentary tickets to the Closing Night; and access to the Award Luncheon ($50).
We'd like to remind our exhibitors of another VenueConnect benefit, one that is all too often overlooked and available at no extra charge – access to educational sessions.
There's no better way to communicate with your potential venue customers than to be familiar with the new industry challenges and opportunities they face. Take advantage of the complete VenueConnect educational program to keep up with what's going on in your customers' world and better speak to their needs.
Here are the top 5 VenueConnect sessions exhibitors shouldn't miss:
Session #1: Crowded Markets for Public Venues
Attend this session to: Learn about venue managers' top concerns regarding staying financially sustainable in an increasingly crowded venue market, and consider how you can better speak to those concerns.
Session #2: Mission Critical: Creating Goal–Oriented Vendor Partnerships
Attend this session to: Understand customers' expectations for a partnership with an allied company, including their role in producing the best guest experience possible. Refine your vocabulary to ensure you're talking about how your product or services affects their guests' experiences.
Session #3: Fueling the Sustainable Shift
Attend this session to: Gain a better understanding of managers' expectations and efforts for integrating sustainable products into their venue. Even if it hasn't happened just yet, the conversation about sustainable solutions will undoubtedly affect your product or service offering.
Session #4: small is AWESOME!!!
Attend this session to: Determine if there's an opportunity to expand your sales in the tertiary market…and to make a couple connections with professionals at smaller venues – their next big promotion could be at a larger venue you've been trying to get into.
Session #5: Improving Event Experiences through Brain Science!
Attend this session to: Get inspired and consider how your product or service affects the entire human experience at an event.
Click here to view the full VenueConnect program.
For your complimentary tickets to Closing Night or to purchase tickets to the Award Luncheon, contact Kelly McDowell, Client Solutions Manager, at kelly.mcdowell@iavm.org or 972.538.1010. For additional sponsorship information, please contact Christy Jacobs, Director or Marketplace Sales, at christy.jacobs@iavm.org or 972.538.1015.