By StadiumBusiness.com
The Toronto Blue Jays have completed the first stage of the major renovation of Rogers Centre with a number of areas having been demolished.
The Major League Baseball team said the first stage of the two-year, C$300m project focused mainly on the 500 Level, which covers the venue's entire fifth level, and the outfield. All 500 Level seats have been torn up – nearly 17,000 of them – and will be replaced prior to next season, which begins in March 2023.
The team said crews are beginning to build the new infrastructure, which will make up a noticeable portion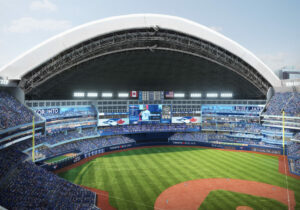 of the project that will continue at the 49,000-seat Rogers Centre through next offseason. On the lower levels, this offseason will see the addition of new social spaces and bars, raised bullpens, and 100 Level seats brought closer to the action. There will also be some major renovations to player facilities, including a family room, a 5,000-sq. ft weight room and staff locker room.
"We are committed to building a sustainable championship organization for years to come, and this renovation to Rogers Centre will give new and lifelong Blue Jays fans a ballpark where they can proudly cheer on their team," said Mark Shapiro, the team's president and chief executive.
"This project would not be possible without the support of Edward Rogers, Tony Staffieri, and our Rogers ownership group, who have demonstrated an unwavering commitment to the Blue Jays, both in fielding the best team to win championships, as well as in the infrastructure needed to create a modern ballpark for our fans and players."
The team said 2.2 million pounds of materials were recycled during the work, including 1.3 million pounds of concrete and 900,000 pounds of steel. Over the 35-day demolition, the average construction crew size each day was 110 workers inside Rogers Centre, six days a week.
Rogers Centre was previously home to the NBA's Toronto Raptors and Canadian Football League's Toronto Argonauts and has hosted major concerts since it opened in 1989.
"From the idea stages through early announcements and now the demolition, the Blue Jays have maintained the same philosophy with this project: turning a stadium into a ballpark," the team said in a statement.
"While the building has done well and undergone some smaller changes, this is the first large-scale renovation in its history."
Plans for the major renovation were announced in July 2022.