By R.V. Baugus and Travel+Leisure
Travel+Leisure magazine recently came out with a list of the 10 Most Impressive Art Deco Buildings in the World. The list, we are happy to share, includes the Paramount Theatre in San Francisco (pictured, photo by Cathe Centorbe), and Fair Park, TX in Dallas. We congratulate both and share below the introduction from the magazine's story. To see the full list, please click here.
It's no surprise that the art deco movement was born around the conclusion of World War I. It was a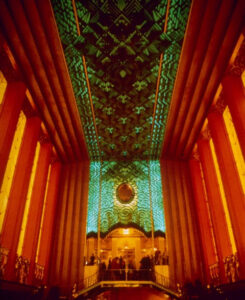 symbol of hope, a new beginning that parted ways with the past's opulent and overly ornate designs, and instead, put a stress on a more straightforward, functional, modern-day aesthetic. The trend emerged during the 1925 world's fair in Paris, where exhibitors from around the globe were asked to build their pavilions in a brand-new style that made no historical references to other movements. Gone were the lavish religious and floral motifs of the past centuries. They were replaced by stylized shapes and geometrical elements, as well as chevron, sunburst, and zigzag patterns that are now emblematic of the art deco style.
This new design aesthetic caught on primarily on this side of the Atlantic. As our country was going through an economic and real estate boom, this modern design trend was wholeheartedly adopted by architects, inspired by its understated sense of grandeur. Art deco buildings started popping up all over the nation — and the world — forever changing city skylines in every corner of the globe.