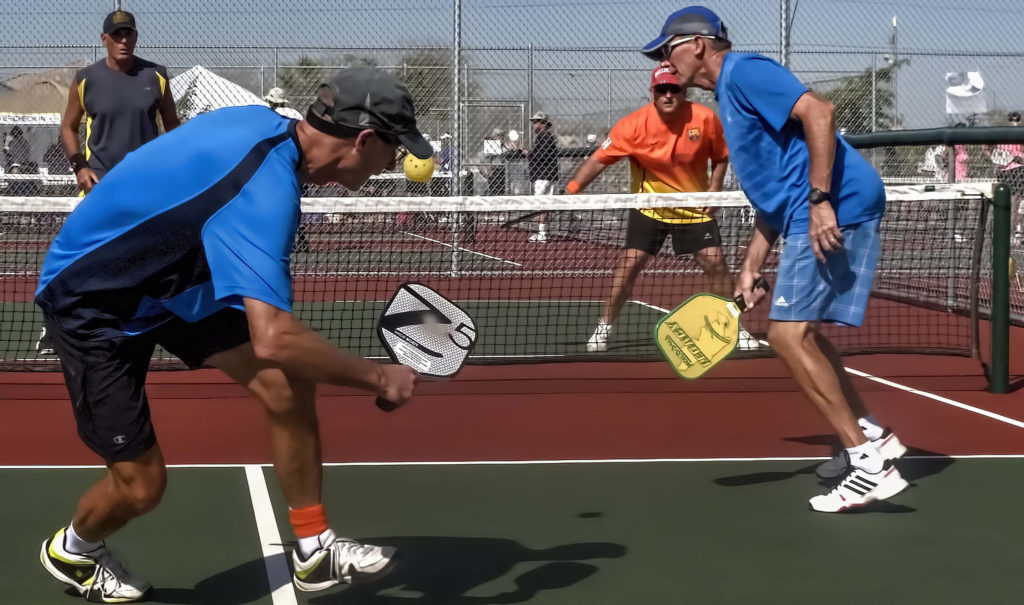 Combine badminton, tennis, and ping-pong and you get Pickleball, a sport increasing in popularity, especially among seniors.
"Perhaps no organized sport since baseball, football and basketball matches pickleball's seduction of so wide a swath of the population," Peter T. Kilborn reported for The New York Times in 2014. "Last year pickleball was admitted to the National Senior Games, the first new sport in 20 years."
The sport was invented in 1965 in Washington and more than 200,000 people in the U.S. play it on 9,863 courts.
A pickleball court is 20 feet by 44 feet with a net that hangs at 34 inches in the middle. A non-volley zone extends seven feet from the net on each side. It is played with a ball similar to a Wiffle ball and paddles that are twice the size of ping-pong paddles. Points are only awarded to the person or team serving, and games play to 11 points (win by two).
"As more retirement locations have adopted pickleball as an integrated sports activity for their population of residents, we have a seen an explosion of new court construction throughout the United States – especially in the southern states," The USA Pickleball Association reported. "Tennis, racquetball, and ping pong players love the competitive nature of the sport and regularly participate in local, regional, and national tournaments."
Pickleball's popularity doesn't seem to be slowing down anytime soon, and it may just be a good source of alternative revenue for a venue, perhaps by hosting a large tournament.
(Image: Michael Martin/Creative Commons)