In an age where the norm seems to be adding more and more seats and expansions run rampant, some renovations to Tropicana Field, home to Major League Baseball's Tampa Bay Rays, reverses the seating capacity trend.
The domed venue is undergoing a number of improvements and renovations designed to enhance the customer experience. For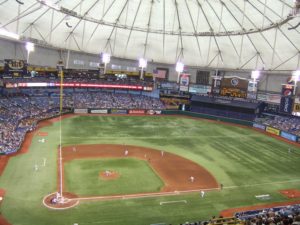 starters, a new social meeting area called the Left Field Ledge will arrive as a full-service bar with seated drink rails and ledge tables. That's not all, as the playing surface will have new turf installed, LED lights will provide a brighter venue, and upgrades to two of the stadium's entry gates are also scheduled. The team has pumped more than $50 million in renovations since 2005, including more than $15 million in just the past two years.
Oh, about that seating arrangement. The venue's capacity for baseball drops from 31,000 to 25,000 with the biggest change closing off the upper level. Just think of it akin to what performing arts venues and arenas are often able to do when making their facilities more intimate depending on the attendance.
The team will hold a Fan Fest at the stadium on February 9 for season ticket holders to see the improvements and renovations at Tropicana Field in advance of the 2019 season. As for those who have season tickets in those upper levels, they will have the option to relocate to an upgraded location.