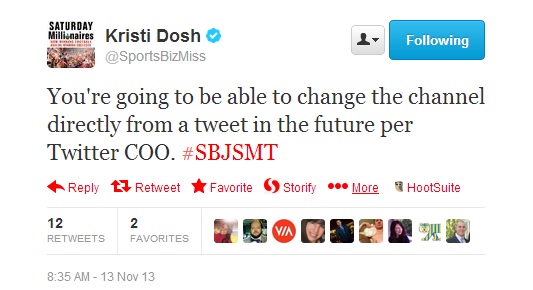 All the Twitter employees arrived to work at 6 a.m. on the day the company's IPO was announced. Big screens were brought in and everyone reveled in the news. Then it was back to work as normal.
Nothing's really normal with Twitter, though, and this was evident by what its COO said at the Covington & Burling Sports Media & Technology conference presented by SportsBusiness Daily/Global/Journal in New York on November 13.
"Twitter is the only platform that is live, public, conversational, and widely distributed," Ali Rowghani said. "And it's hoped that the open visibility required by the IPO will make Twitter even better."
Rowghani touched on several points in his discussion about Twitter and how it relates to the business of sports.
"Advertisers care more about engagement than reach," he said. "Remember, the conversations you drive on Twitter are valuable to you. View them as an asset to be optimized."
Looking forward, Rowghani said that there will be more video on Twitter and customized timelines will increase in popularity.
He also dropped this highly tweeted statement: "You're going to be able to change the channel directly from a tweet in the future."
That prompted someone to reply: "Meh. I'll be impressed when you can walk the dog from a Tweet."
Give them time. I'm sure Twitter is working on that, too.