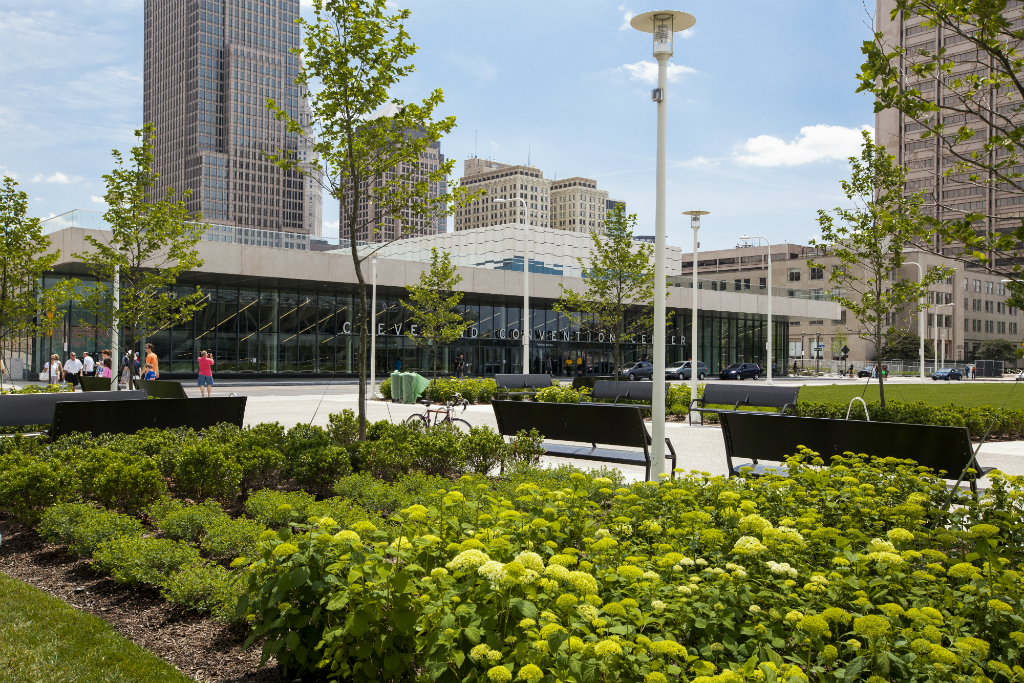 Congratulations to two of our member venues on achieving LEED certifications!
First up, the Cleveland Convention Center has been awarded LEED for Building Design and Construction (LEED-BD+C) Gold Certification from the U.S. Green Building Council's (USGBC). The center earned the certification for green design and construction in the areas of energy use, lighting, water, and material use as well as incorporating a variety of other sustainable strategies. For example, the venue includes a 12.5-acre green roof with extensive additional plant life and soil material that filters and reuses storm water. Also, Levy Restaurants—the exclusive food and beverage provider for the convention center—has partnered with SMG to start two honeybee colonies to produce honey for dishes in the facility.
"We have learned that the national honey bee population is in jeopardy and, last winter, nearly one-third of all honey bee colonies were reported to have died," said IAVM member Mark J. Leahy, general manager of the Global Center for Health Innovation and the Cleveland Convention Center. "Honeybee colonies provide a vital component in the food chain and this represents our initiative to create a sustainable honey bee population onsite that can produce honey for our Levy Restaurants kitchen in the facility and pollenate plants and crops in the area."

Next up, the Georgia World Congress Center (GWCC) is now the world's largest LEED certified convention center. It was awarded Silver certification by the USGBC.
"We could not be happier to receive this certification," said IAVM member Frank Poe, executive director of the Georgia World Congress Center Authority (GWCCA), the state authority that governs the GWCC, Georgia Dome, Centennial Olympic Park, and manages the Savannah International Trade and Convention Center. "Our staff has worked diligently to green our event practices, reduce our environmental impact, and preserve our facilities for future generations. This recognition solidifies our leadership role in our industry and demonstrates our commitment to the community."
GWCCA staff created a sustainability committee in 2005 and hired Tim Trefzer as the center's first sustainability coordinator in 2010.
"Tim Trefzer and the GWCCA Sustainability Committee did an outstanding job securing this award," said IAVM member Mark Zimmerman, general manager of the GWCC. "We are very proud to be LEED Silver certified; this is a monumental achievement for the GWCC and the convention industry as a whole."
(Images: Cleveland Convention Center and the Georgia World Congress Center)