The NAIA announced the second year of the NAIA National Championship Host Excellence Awards. Seven honors were awarded to championship site hosts that have gone above and beyond in the execution of their event during the 2017-18 school year. Glenn Walinski has received the Championship Legacy Award for his role in NAIA tournaments at the Spectra-managed Tyson Events Center in Sioux City, Iowa.
The Championship Legacy Award is given to a person who has advanced NAIA National Championships and has helped elevate the NAIA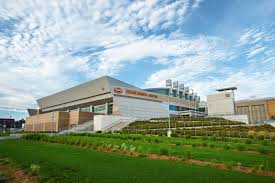 brand.
"Our hosts deserve every bit of recognition for all of the work that they put into making our NAIA Championships better each year," said NAIA President and CEO Jim Carr. "The 2017-18 season is no exception with another outstanding group of hosts that did an excellent job of creating experiences for our student-athletes that will last a lifetime."
Walinski has been at every NAIA Tournament in Sioux City since his arrival in 2005 (10 volleyball, 14 DII WBB, 2 softball) up until his retirement in December 2017. The long-time IAVM member was the primary facilities contact and was always willing to do what needed to be done to make sure that the student-athletes, coaches and fans were safe and able to have an even better championship experience.
"Glenn worked closely with his staff, local committee members and championship coordinators to make sure each event was championship caliber," said Mike Skaggs, Women's Volleyball and DII Women's Basketball Championships Co-Tournament Director. "He worked tirelessly to make sure that the arena and playing surfaces were championship ready. He strived to provide first class treatment to all players, coaches and fans during each tournament. Glenn was always available to make any adjustments that any coach or player felt needed to be made in order to improve the experience and provide maximum safety."