By Max Rettig
Fans at this year's Super Bowl will be able to take home more than just the ticket and a very memorable experience. Perhaps they'll be able to stump their friends with trivia, too.
SportsMEDIA Technology announced it is debuting a system, called 1st & Ten, that will integrate real-time statistics with the graphics shown on the screens at Minneapolis' U.S. Bank Stadium. 1st & Ten is the system that presents in-game graphics such as the line of scrimmage, first-down line, and yards-to-go arrows.
According to the announcement, Next Gen Stats will be presented, along with the graphics productions, on U.S. Bank Stadium's two end zone HD video screens—measuring 120 x 68 feet and 88 x 51 feet— and 2,000 HD displays throughout the stadium's concourses. SMT uses DualChannel SportsCG, a graphics publishing system that allows a single on-site operator to take in-game data and present it on screen.
"As an organization, the Minnesota Vikings constantly look for innovative strategies that provide the best fan experience possible,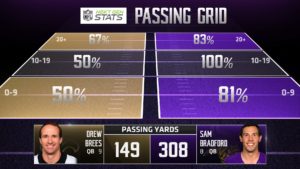 and SMT's in-stadium solution is the perfect complement to our new video boards," Allen Wertheimer, Senior Manager of Production for the Minnesota Vikings, said in a statement.
"For years, we've heard from fans that they want the same innovative technology in-stadium that they get at home. Now, with SMT's Next Gen Stats and virtual 1st and Ten system on the video boards, we can offer them in-game stats they wouldn't get watching from home," Wertheimer added.
Those stats could include anything from who ran the fastest to which zones the quarterback has thrown to most, the announcement revealed. With broadcast technologies improving and offering fans more information than ever on their TVs or mobile devices, SMT's in-stadium production, similar in concept to MLB's StatCast, is a reason for football fans to come out to the stadium.
"With SMT's Dual-Channel SportsCG combined with the new version of the NFL's Next-Gen Stats data feed—a feed packaged specifically for NFL teams' in-stadium production needs—operators have the freedom to produce the shows that give fans a unique 'wow' factor they can't get when watching on their 60-inch flat screens," Ben Mark, SMT's product manager, said in a statement.
SMT's 1st & Ten service has won 31 Emmy awards and has been featured most prominently on Monday Night Football with ABC and ESPN, the announcement said. It has also been seen in many Super Bowl broadcasts and on NBC's Sunday Night Football.
Marks added: "Our video board production provides the ultimate Game Day experience for fans, who will happily return to stadiums for the thrill of the live game combined with in-game analysis from Next Gen Stats along with the yellow first down line they've come to depend on."
Max Rettig writes for SportsTechie.