When U.S. Bank Stadium welcomes the pinnacle game of football this Sunday, more than 31,000 square feet of LED displays manufactured and installed by Daktronics will create the ultimate game-day experience for fans. Daktronics employees will provide services and support during the game as the New England Patriots and Philadelphia Eagles fight for the championship in Minneapolis, Minnesota.
U.S. Bank Stadium is the only professional football venue to feature LED displays manufactured in the same state as Daktronics location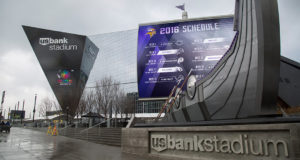 in Redwood Falls, Minnesota, handled the entire production for these displays. A total of 23 displays featuring 13HD pixel layouts were installed prior to the stadium opening in 2016. Positioned close to the fans and the field, the main end zone displays create one of the most intimate experiences in the league.
"This year marks 14 straight football championship games with our equipment being used at the host venue, a mark that we're extremely proud of as it shows our commitment to the sports industry and enhancing their biggest moments," said Jay Parker, Daktronics vice president of live events. "This year is a little bit special as the game is close to home, essentially in our own backyard. We're looking forward to equipment being on display at the game and showcasing our company as a trusted source for sports' largest events."
Unique displays outside the stadium welcome fans to the venue. The legacy ship out front features a sail-shaped display curving from top to bottom and the prow display on the side of the stadium is trapezoid-shaped creating interest and catching eyes.
Ensuring everything is operational for the game, Daktronics services group will be on site before the game to run pre-event checks. Services personnel will be watching the system closely during the game to maintain peak equipment performance. The team will also be supporting events prior to the game and until the fans have left the stadium after the game.
"Providing support for live sporting events is what we do; it's in our DNA," said Daktronics Vice President of Services Sarah Rose. "We've been working with U.S. Bank Stadium for over a year to plan for this week's events leading up to the main event on Sunday. We will have teams in place verifying everything is operating as expected leading up to the game as well as at the game itself to support and offer peace-of-mind for our customer."