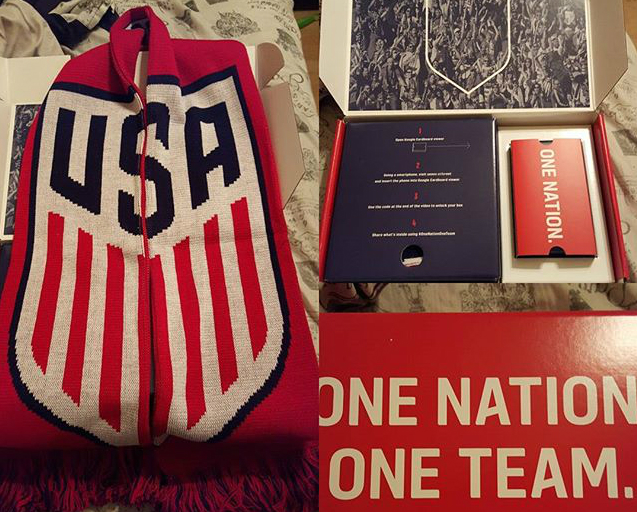 On Monday, February 29, the United States Soccer Federation released its new crest for their first major rebranding since 1995. Using Google Cardboard, The U.S. Soccer Federation distributed more than 10,000 packages to registered Club Supporters and Development Academy players to make the official announcement.
"This is an area that I think is still in a really unique phase," Jay Berhalter, U.S. Soccer's chief commercial officer, told The New York Times. "We're not really sure what it will end up being. But when we looked at it to launch the crest, we thought it would be a really good fit for this type of dynamic."
As a soccer supporter and general sports fan, I'm a big fan of the new crest as it aligns well with other popular U.S. Olympic sports such as hockey and basketball.
Supporters awoke this morning to find multiple social media posts from U.S. National Team Players showcasing their U.S. Soccer package and wondering more about what was included in the virtual reality announcement and what they needed to do to see it…which is much more appealing than reading a press release or watching a press conference, to say the least.
"We kept on coming back to the notion that the press conference isn't really something that drives the fan experience," Berhalter told the Times. "Therefore, we've moved away from that to something that is more immersive and experiential to the fan."
Does this have any of our venue managers thinking about new ways to announce your next big concert or sporting event? Would you consider using virtual reality for a major announcement coming from your venue? Would your announcement be more effective using the artists or athletes instead? What are some other interesting concepts you've used in the past?
"You want people to get genuinely excited about something, and you want to do it in an atmosphere that they can really embrace," Joe Favorito, an instructor in strategic communications at Columbia University who consulted on a similar project for the Rugby World Cup, told the Times. "Sometimes the best way to do it is literally to drop it on their doorstep."
(Image: Almanenny16)