This has to fall in the category of "They don't make 'em like they used to."
Phil Coyne, 99-years-young and an usher for Pittsburgh Pirates baseball games since 1936, decided it was time to hang up the ushering cleats, citing a recent fall and some balance issues. As if Mr. Coyne needed to cite a reason after his decades of longevity.
Coyne's 82-year run as an usher for the Bucs began in 1936 at the old Forbes Field and continued through the team's move to Three Rivers Stadium and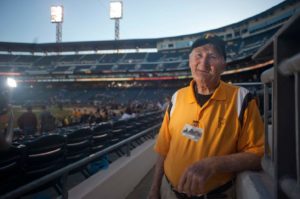 finally PNC Park. Coyne was honored with a ceremony before a game against St. Louis on April 27 and has already indicated that he plans to be among friends and family at a game next year to celebrate his 100th birthday.
The team released a statement attributed to team president Frank Coonelly that read: "Legends never really retire. Having worked his first Pirates game at the age of 18 in 1936, Phil remains number one on our organizational seniority list and will always have a place on our team. If Phil has indeed worked his last Pirates game, he has served our fans with incredible grace and distinction and he certainly has earned the right to watch Pirates games with his feet up from the comfort of his easy chair. We very much look forward to April 27, when Phil and nearly 200 of his family and friends will be our guests as we celebrate Phil's 100th birthday during a special pre-game ceremony."
Well done, Mr. Coyne. Well done.