Sheffield Arena in the United Kingdom has a new naming rights agreement in hand to become the FlyDSA Arena. The exact deal details were not revealed although it is known to be a six-figure naming rights agreement with Doncaster Sheffield Airport (DSA).
The early phase of the three-year deal will heavily involve promoting the Doncaster Sheffield Airport as well as the arena and the greater Sheffield area.
The arena was built to host the World Student Games and was officially opened by Her Majesty The Queen on May 30, 1991. The venue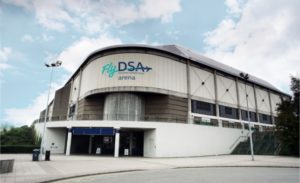 can accommodate audiences from a theatre style 3,500 up to a 13,600-capacity, making it the region's biggest capacity indoor arena. The Sheffield Steelers ice hockey team serve as the primary tenant with 25-30 home games a year.
In the summer of 2013 the venue underwent a multi-million pound investment and now has a new roof, doors, seats, lighting, catering and restroom facilities.
As part of the transition to FlyDSA Arena, the venue will go through massive rebranding to include tickets, venue branding, posters, promotional materials, signing inside and outside the arena and all advertising.
Interestingly, the venue opened as Sheffield Arena but from 2002-07 was known as the Hallam FM arena before returning to its original name. In a different five-year period it was known as Motorpoint Arena Sheffield.
In other news at the facility, general manager Rob O'Shea departed to give full attention and focus to his event promotions firm, Manifesto Events. O'Shea was succeeded in the GM position by his former deputy, Joe Waldron.