By R.V. Baugus
When you are from Canton, Ohio, home to the NFL Hall of Fame, you know that sports have to be in your blood. This is especially true of Heather Lyke, director of athletics at the University of Pittsburgh and Arenas/Stadium keynote speaker on August 1 at VenueConnect. Lyke is well versed in leadership, city/university relations, university/venue relations, and has some thoughts about the future of college athletics.
Named athletic director in March 2017, Lyke oversees an athletic program that has experienced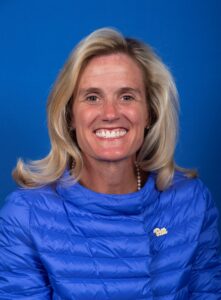 unprecedented success during her tenure. As her bio shares, the 2021-22 academic year vividly illustrated Pitt's rising tide of success.
Pitt football won 11 games, the most in 40 years, and captured its first outright conference title with a 45-21 triumph over Wake Forest in the ACC Championship Game. The Panthers earned a No. 13 ranking in the final polls, their highest finish since 1982.
Volleyball continued to entrench itself as a national power, winning 30 games and advancing to the NCAA Final Four for the first time ever.
Men's soccer won the ACC's Coastal Division and made another deep run in the NCAA Tournament. One year after reaching their first College Cup, the Panthers advanced to a second consecutive Elite Eight.
Wrestling achieved a second consecutive Top 25 national finish, placing No. 24 at the 2022 NCAA Championships.
Lacrosse played its inaugural season to rave reviews and earned votes in the final national coaches' poll. The program was the subject of an ESPN-produced documentary, All Access with Pitt Women's Lacrosse: The Inaugural Season.
The Panthers scored victories off the field as well. Pitt Athletics ranked ninth in NCAA Division I—and first among Power Five institutions—in community service efforts during the 2021-22 academic year. Five Pitt programs ranked in the top 5 of their respective sport, including football, rated No. 1 nationwide.
Lyke has launched a number of diversity and inclusion initiatives for Pitt Athletics, including Panthers United, a committee of more than 45 student-athletes, coaches, administrators and campus partners that develops action items to foster a culture of inclusion. These include Pitt Athletics' Voting Matters campaign and community service programming.
Against this impressive backdrop, we were able to secure a few minutes to have Lyke share some of her impressive story with us leading into VenueConnect.
First, I wanted to congratulate you on winning the 2003 Cushman and Wakefield AD of the Year by NACDA. Share a bit about your thoughts on winning that award over a very talented field.
It is more than humbling and an honor I am deeply appreciative for because it is voted on by my peers and colleagues who I have tremendous respect for because no one truly understands the role until you are in the role. Additionally, I am incredibly proud because it a direct reflection of the extraordinary work done by our team of coaches, student-athletes, and staff. Success is never about one person; rather it is the result of thousands of decisions by our team over time that has led to the results and success we continue working to achieve every day. I am grateful to my team for their relentless hard work and the unselfish confidence they bring to Pitt Athletics.
How about a little background on yourself, including your education and how you got into the world of university athletics.
I am a product of college athletics having played softball and was the captain of our team at the University of Michigan for Carol "Hutch" Hutchins, the winningest coach in NCAA softball history. After graduating from Michigan, I proceeded to law school at the University of Akron School of Law. I was not interested in practicing traditional law but wanted to do something that combined my interest in law with my passion for college sports. I hoped to be able to help others have the type of extraordinary student-athlete experience that I had. So, after passing the Ohio Bar and law school graduation, I received the opportunity to be an "intern" at the NCAA in the enforcement department. Then what really got me engaged was the opportunity to work for three of the best Directors of Athletics ever – Bob Goin at Cincinnati, Andy Geiger at The Ohio State University, and Gene Smith at Ohio State, too. All three leaders were incredible role models and allowed me to grow, learn, and make a difference in their organizations. So, they inspired me to continue to lead and stay in the world of college athletics.
Your Pitt Panthers have had banner seasons in the revenue-producing sports of football and basketball. You must be excited for those programs going forward as well as your other teams there on campus.
Yes, thanks to our exceptional head coaches, coaching staff, and all the staff that support our coaches and student-athletes, we have been fortunate to build these programs and see them progress on the right trajectory. Success is contagious. As one team starts to perform well, other coaches see what is possible and never underestimate what they can accomplish. We are all committed to excellence and building champions and our work is starting to make a positive difference.
What makes for a strong leader such as yourself in Division I college athletics?
A leader is only as strong as the team around them. I feel blessed to have an extraordinary staff and coaches that are committed to excellence every day in what we do. A strong leader has the ability to set a vision and get others to believe in it too. A strong leader has values that guide their decisions, listens to others for input or feedback, manages and resolves issues daily, and makes a positive difference in the organization.
In what ways does the university work there in Pittsburgh with the city?
The University is an integral part of Pittsburgh because it is a major employer in the city and there are a significant number of alumni who live in or near in the city. The University of Pittsburgh is intertwined because of its location, its brand, and the many connections people have in Pittsburgh to Pitt in one form or another. The University has the ability to unite and engage the community in athletics, special events, community service, community engagement centers, and numerous other ways.
How about university relations when it comes to the venues on campus?
Athletic venues are a tremendous asset to the University not only because of the athletic events we can host in those venues, but because of the varied uses that can occur in those facilities. The venues on campus serve numerous constituents across campus, whether hosting large scale events, corporate outings, to small scale events. Additionally, athletic venues are a great way to connect with the community because we can host camps and clinics for the youth in the surrounding areas. Camps and clinics give us the opportunity to expose young people to campus and a place of higher education.
College athletics is changing at warp speed with the transfer portal, NIL, realignment of conferences. Will all of this eventually settle down or what do you see going forward in the future with other changes?
It is challenging to predict the future, but I anticipate more changes will come that will address both the needs of our student athletes and the importance of preserving what we all love about the world of college athletics. We always have to be willing to evolve and adapt as the landscape changes, rules changes, and look for opportunities to make the student-athlete experience better today than it was in the past.