The University of Toledo Athletic Department announced a partnership with global sports and live entertainment company Oak View Group (OVG) to secure a strategic naming rights partner for the Glass Bowl, the school's historic football stadium located in the heart of its beautiful main campus. 
"We are excited to partner with OVG to identify a naming rights partner that shares our vision of Toledo Athletics and the University as a premier destination," said Vice President and Director of Athletic Bryan Blair. "The Glass Bowl is not only the historic home of our football program, but it is a focal point of our campus, well-known for bringing great value to this region as its largest outdoor venue. We are excited to lock arms with OVG, and a naming rights partner who will help continue Toledo Athletics' unprecedented momentum." 
OVG's Global Partnership division, which will spearhead the search for a naming rights partner, has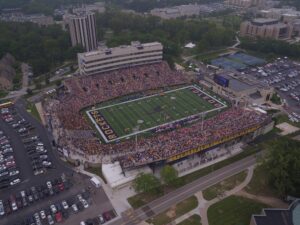 successfully secured 19 naming rights partners totaling approximately $3.45B, including UBS Arena in New York City, Climate Pledge Arena in Seattle, The Caesars Superdome in New Orleans, and the new CFG Bank Arena in Baltimore, Md.
"We are going to help The University of Toledo – and its student-athletes, students, faculty and alumni – find a naming rights partner who understands and values the Glass Bowl's rich history, its significance to the community, and the opportunity to renew and reenergize an iconic college venue," said W. David Livingston, VP of OVG Global Partnerships.
Since 1937, the Glass Bowl has been the home of Toledo Football and has hosted numerous concerts, commencements, and other signature events. The stadium has a seating capacity of over 26,000, including 45 private suites and 300 premium club seats, and hosts upward of 50 events and over 150,000 visitors annually. 
The Glass Bowl has been named the "best football stadium in the MAC" by Bleacher Report and The Sporting News. It has played host to 12 Mid-American Conference championship teams, including the Rockets' most recent title in 2022.  
Through the years, the Rockets have hosted many major college opponents, including Miami (Fla.), Missouri, Arizona, Colorado, Pittsburgh, Syracuse, Purdue, Iowa State and Minnesota. Future home opponents include Kentucky and San Diego State. 
Toledo has been ranked No. 1 in the Mid-American Conference in attendance over each of the past four seasons. The Rockets appeared on national television nine times in 2022, with a total viewing audience of over 6.1 million. 
The City of Toledo and the greater Northwest Ohio community plays host to a thriving business community. Located in the heart of the Midwest, the city features a revitalized downtown attracting millions of dollars in new investment, with approximately six million people residing within a 100-mile radius of Toledo. The Toledo Region features five Fortune 500 companies and has been ranked top 10 for new business investment for six consecutive years.
Photo from University of Toledo Athletics.