By StadiumBusiness.com
Paul Brown Stadium is suitable to remain the long-term home of the NFL Cincinnati Bengals but will require a minimum of $493 million in upgrades, according to the findings of a study by design and architecture firm Gensler.
Hamilton County in Ohio hired Gensler in September 2020 to assess the state of Paul Brown Stadium, which opened in August 2000, ahead of the Bengals' current lease deal expiring in 2026.
Gensler issued its first report into the stadium stating that unlike other NFL venues that are currently in the process of being replaced, Paul Brown Stadium is suitable for redevelopment.
Gensler was appointed to assess long-term capital repair, replacement, and improvements and offer design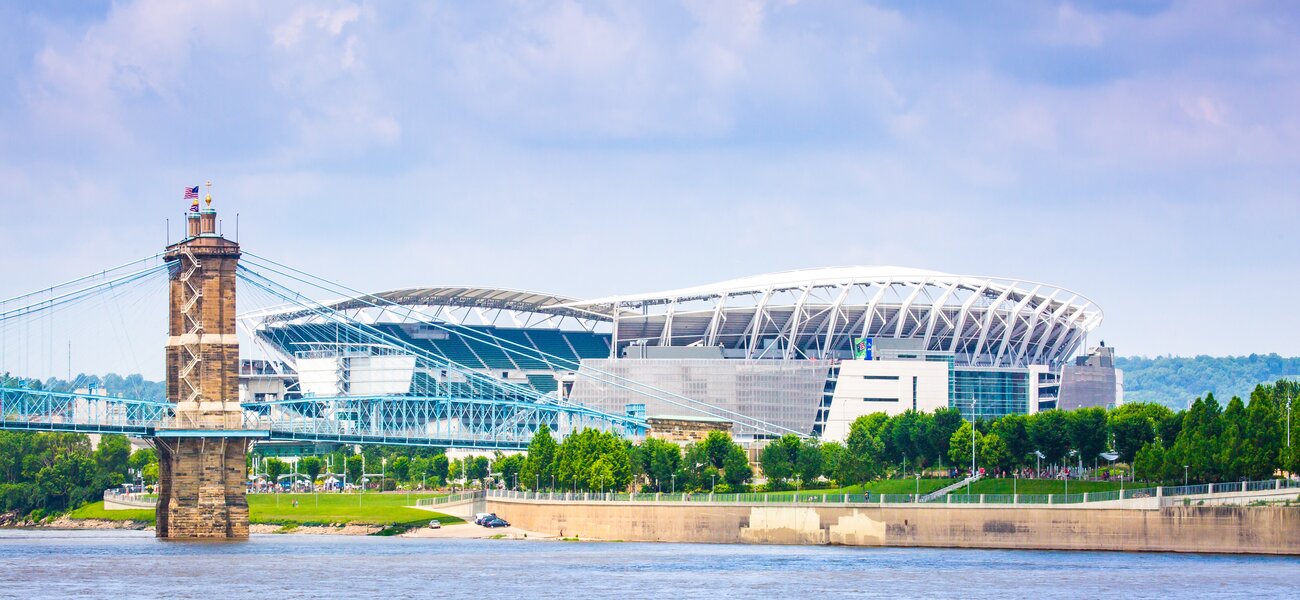 options for the next 20 years. The firm looked into 15 different areas of the stadium and provided a suggested priority list and timeline for repairs. The $375,000 cost of the study was split equally between Hamilton County and the Bengals.
Demetra Thornton, principal for Gensler, said that unlike Riverfront Stadium, the Bengals' former home, Paul Brown Stadium was designed with improvements in mind. "The original design was meant to be expanded," said Thornton, according to the Cincinnati Enquirer. "We learned from Riverfront. I don't want this building to be imploded. I want it to stand the test of time."
The first of two studies have focused on what might need to be done to Paul Brown Stadium after the Bengals' lease expires, with a further one set to look at improvements relative to what is happening in the wider NFL stadium space.
The Buffalo Bills, Tennessee Titans, and Washington Commanders are all currently drawing up plans for new stadia, but Thornton maintains this is not what is needed for the Bengals. "It's been well maintained over the last 20 years," Thornton said of Paul Brown Stadium. "What we say in the construction and architecture industry, it has good bones."
The report focused on stadium needs such as roofing, electric, and plumbing, with a masterplan due later this year set to highlight potential future upgrades and means to enhance the fan experience.
"This piece is the first building block related to what we need to do in the future for this stadium in conjunction with the Bengals, and it leads into (lease) negotiations with the Bengals," said Hamilton County Commissioner Denise Driehaus, according to local broadcaster WCPO.
Commenting on the release of the study, the Bengals said in a statement: "The Bengals are proud to call Paul Brown Stadium home. With respect to this report, the Bengals will study it. We are encouraged by the conclusion that Paul Brown Stadium was well-designed, well-constructed, and has been well-maintained.
"The condition reflects the care and attention that the Bengals and Hamilton County have taken in maintaining the building to protect the taxpayers' investment. Because of that, it looks like Paul Brown Stadium can continue to be our home for decades to come at far less cost than seen elsewhere.
"Today's report is a first step, and the club looks forward to studying the report and exploring with the County ways to make the coming decades memorable ones for our hometown."